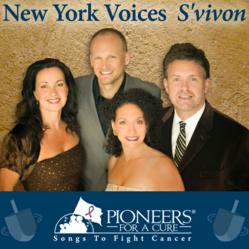 Join the fight against cancer, for a song.
New York, NY (PRWEB) December 21, 2011
Pioneers For A Cure - Songs To Fight Cancer is pleased to announce the iTunes and Amazon release of the Chanukah classic 'S'Vivon' by the New York Voices, a Grammy winning vocal group. New York Voices has selected the Dr. Allyson J. Ocean Research Fund - Weill Cornell Medical College to receive proceeds from downloads of the song.
The song can be found on iTunes at http://itunes.apple.com/us/album/pioneers-for-a-cure-svivon/id490179379
Donors can customize their donations at http://pioneersforacure.org/artist/new-york-voices/
New York Voices is an American vocal music group. The group was formed in 1987 from an Ithaca College alumni group. The original group consisted of Darmon Meader, Peter Eldridge, Kim Nazarian, Caprice Fox and Sara Krieger. They released their first, self-titled album on GRP Records in 1989. They won a Grammy award for their 1996 collaboration with the Count Basie Orchestra, "Count Basie Orchestra with New York Voices Live at Manchester Craftsmen's Guild". The New York Voices are now a quartet, who, aside from performing, give jazz clinics at schools and universities and individually have their own solo careers. The New York Voices have to date released seven studio albums, all blends of classical, pop, R&B, Brazilian and American jazz.
Pioneers For A Cure - Songs To Fight Cancer is the largest showcase of cancer charities on the web. Called '[A] stellar model of artist-driven grassroots philanthropy' by National Geographic, the non-profit project records public domain songs, reinterpreted and made available for donations of as little as $1.99. This treasure trove of over 100 songs has been recorded by dozens of artists from around the world including Suzanne Vega, Ben E. King, Tom Chapin, Tom Verlaine, Matt White and David Broza. Fine artist Mira Sasson has painted the Pioneer Portraits of the singers, which are made available as US Postage Stamps to fight cancer. Proceeds from song downloads are donated to artist-selected cancer charities such as the American Cancer Society, St. Jude Children's Hospital, the Breast Cancer Research Foundation, and Susan G. Koman for the Cure.
Please contact Pioneers For A Cure for more information, reviews and other press requests.
###