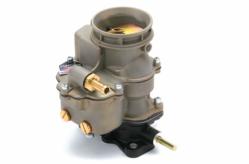 The ideal combination of period looks and modern performance for street rods and customs.
Tallmadge, Ohio (PRWEB) December 22, 2011
Summit Racing Equipment announces Edelbrock's 94 Series Carburetors are now in stock and available for purchase. The 94 Series carburetors feature die-cast bowls and air horns plus aluminum 3-bolt bases. Extended throttle shafts make it easier to set up dual and triple carburetor combinations. Each carburetor is finished with a zinc-dichromate coating for a durable, classic look.
Extensive on-road runs and in-house dyno testing allowed Edelbrock to provide power valve and jetting combinations that deliver a excellent out-of-the box performance for many engines. Jets and power valves are available for fine-tuning.
Part numbers: EDL-1151 (primary), and EDL-1152 (secondary)
Other stuff worth knowing: Summit Racing has linkage kits, rebuild kits, and fuel blocks to complete the installation of 94 Series carburetors. There is even an ultra-trick, six-carburetor/ram log intake manifold kit available that's an exact reproduction of the setup made by Vic Edelbrock Sr. in the 1950s.
Where to get them: Order online at SummitRacing.com or call Summit Racing at 1-800-230-3030.
###