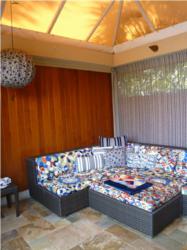 Maui, HI (PRWEB) December 20, 2011
Four Seasons Resort Maui and luxury resort retailer Seaside Luxe (http://www.seasideluxe.com), announced its collaboration with Missoni, the internationally acclaimed Italian fashion designer that has partnered with Seaside exclusive boutiques in Maui, Hawaii to carry its full line of Missoni Home Décor.
As part of the collaboration taking place now through January 2012, the Four Seasons Resort Maui at Wailea will feature two Missoni-inspired cabanas at its Serenity Pool, while a Missoni-inspired lounge will be on display outside the resort's 22 Knots boutique. The popular Missoni décor, recognized by its colorful, distinctive zigzag pattern will be on display at key points within the resort to provide guests with a sneak preview of eye-catching Missoni luxury goods while enjoying their relaxing stay.
"Four Seasons Resort Maui is thrilled to partner with Seaside Luxe to showcase Missoni Home in our Serenity Pool cabanas. We embrace the idea of bringing together the best of premier forward-thinking luxury merchandise, exclusive luxury resort location and service, and the world-renowned Italian brand," says Mark Simon, marketing director of the resort.
About Missoni Home
Designed by Rosita Missoni, produced and distributed by leading textile manufacturer T&J Vestor, the MissoniHome line was added to the company's product range in 1983. Renowned since 1921 for the quality of its homewear, T&J Vestor is run in partnership by the Torrani family and Alberto and Giampiero Jelmini, Rosita's brothers. The Missoni Home collection has enjoyed growing success and expansion in recent years, developing a strong international reputation. Home furnishings now account for a considerable part of the brand's production, as well as a rich assortment of textiles and accessories. Missoni's outstanding creativity and timeless style and T&J Vestor's leading technology and market knowledge combine to create the winning elements of worldwide acclaim based on imagination and innovation. For more information, visit http://www.missonihome.com.
About Four Seasons Resort Maui
Maui's first and only AAA Five Diamond and Forbes Five-Star resort is nestled on 15 acres of the breathtaking Wailea coast. The 380-room oceanfront property is world-renowned for its comfortable opulence, impeccable service and luxurious amenities. The resort is also home to one of the nation's top-rated spas and three of Hawaii's most acclaimed restaurants – Ferraro's Bar e Ristorante, Spago Maui and DUO, a premium steak and seafood restaurant. Go to: http://www.fourseasons.com/maui
Contact for more information and photos:
Charlotte Novom
cnovom(at)novom(dot)com
323-882-8333
Barbara Barrielle
bbarrielle(at)novom(dot)com
323-882-8333
###