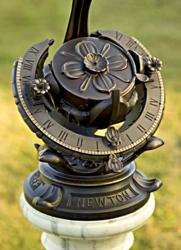 It is a milestone acquisition for the art collector, garden lover and astronomy buff.
(PRWEB) December 21, 2011
It's this year's hot gift for the person who has everything: Telescopes of Vermont's masterful remake of the 1923 Porter Garden Telescope is this year's top pick in the Wall Street Journal's Holiday Gift Guide 2011. The Porter Garden Telescope, a magnificent garden sculpture and optically superb instrument, is cast in bronze and bears a hand applied verdigris patina. This artistic landscape art installation is worth every dollar of its $76,000 price tag. Last minute shoppers can find the Holiday Gift Guide 2011 online at the Wall Street Journal's website, or go straight to the source at http://www.GardenTelescopes.com for information on both The Porter Garden Telescope and the recently released customizable bronze Birdbath Sundial.
Telescopes of Vermont is a small family company founded by Fred Schleipman, an inventor and engineer from Norwich, Vermont. He was driven by a passion to reintroduce to the world a most unusual telescope. Originally designed in 1923 by Russell Porter of MIT and Springfield, Vermont, the Porter Garden Telescope was conceived as both a superb optical instrument and a beautiful Art Nouveau botanical sculpture. An original resides in the Smithsonian Institution.
George Manacek, whose work is the scholarly study of antique scientific instruments, claims that it is the most pure marriage of art and science he has ever witnessed, and that neither role is compromised by the other. Its beauty compelled Schleipman to convince a small museum in Vermont that he could improve on the telescope and reintroduce it to the world. That effort took twenty-five years of cajoling, but Schleipman's track record of design and fabrication convinced the museum he was equal to the task. After five years of engineering and the integration of many refinements, he has done so. Hence the little telescope that inspired the design of the 200-inch Hale telescope was reborn. Schleipman, a spry 92, is still very involved in the production of each unit, along with a team of gifted individuals who are masters of their respective crafts.
The Porter Garden Telescope is the clever and sculptural reconfiguration of the more familiar reflecting telescope, which is housed in a tube with an eyepiece projecting from the top. In the case of the Porter Garden Telescope, the tube has become a bronze ginger leaf, which holds the optics in place. The optics lift out in seconds, leaving a graceful installation that can reside outdoors permanently as a distinctive centerpiece to a garden. With the optics removed, it is also a novel sundial and as such is a wonderful educational tool for demonstrating the relationship of time and solar position.
Serial numbered and limited to 200 pieces, it has the cachet of rarity, and is an heirloom imbued with hand wrought craftsmanship. Over four hundred hours of custom work are lavished on each telescope. It will appeal to those who desire a singular piece of functional art, it will spark conversations and delight owners and their guests and it will instill a certain awe when trained on the moon, the moons of Jupiter or the rings of Saturn. Currently there are only twenty-five in the world.
"We're thrilled to have been featured in this year's Wall Street Journal Gift Guide," comments Russ Schleipman of Telescopes of Vermont. "The Telescope is a beautiful piece of sculpture. It makes the perfect gift for someone seeking a singular addition to a garden, roof deck or amateur observatory. It is a milestone acquisition for the art collector, garden lover and astronomy buff."
About Telescopes of Vermont
Telescopes of Vermont has lavishly and faithfully recreated The Porter Garden Telescope. Schleipman's highly specialized team is made up of world-class machinists, optical engineers, foundrymen and pattern makers. They have also recently released the Birdbath Sundial, based on the design of The Porter Garden Telescope. They finish these superlative garden ornaments in their workshop, high on a hill in Norwich, Vermont.
GardenTelescopes.com features two didactic videos on the production of these unparalleled pieces, along with detailed specifications and information on how to purchase.
###