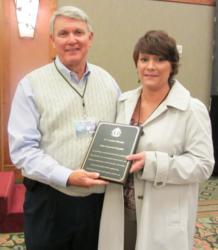 With Quadax's solutions, hospitals, physician practices and clinics see improved bottom lines, while at the same time ensure all patient accounts are treated consistently and appropriately." Jimmy Lewis, CEO, HomeTown Health LLC
Atlanta, Georgia (PRWEB) December 20, 2011
As 2011 draws to a close, HomeTown Health, LLC recognizes excellence among its member hospitals as well as the business partners who serve these rural Georgia hospitals.
HomeTown Health, LLC recognized Wills Memorial Hospital as the "Hospital of the Year" at its 2011 Annual Conference at Callaway Gardens in Pine Mountain, Georgia from among 55 statewide Georgia rural hospital members. Wills Memorial Hospital received this prestigious award for demonstrating exceptional leadership by providing quality doctors, dedicated caregivers, and adopting "Best Practices" that contributed to the overall success of the hospital. The criteria consists of having an ongoing strategic plan, involvement with legislators in governmental affairs, being highly regarded by business providers and hospital peers, a strong commitment to staff education, and expressing decision making capabilities that promotes the highest quality health care with the greatest access to the citizens of Wilkes County and surrounding counties, while maintaining a financially viable health care institution.
"Wills Memorial Hospital has achieved notable success in a very difficult and volatile healthcare environment and is recognized and commended for achievement far above the normal rural hospital system", stated Jimmy Lewis, the CEO of HomeTown Health.
Quadax, which provides EDI/Clearinghouse and Revenue Cycle Management services healthcare providers of every size and specialty, has been selected as HomeTown Health, LLC's "Business Partner of the Year" for 2011. Each year, members of HomeTown Health, an association of rural hospitals located throughout Georgia, vote to honor one of the group's 55+ business partners with this award.
Privately owned, with a history of more than thirty-eight years of steady growth, Quadax is recognized as leading the industry with reliable, responsive service, with the agility to meet evolving industry needs with innovative strategies and solutions. Xpeditor, the transaction management engine designed by Quadax engineers, features expert, comprehensive claims management and editing, with Xtensions to also provide remittance management, denial management, eligibility and claim status transactions, and support for Axis, our Audit Control application for management of RAC and other audits.
"As CEO of a rural hospital network, I see firsthand, day after day, how tough things are for both hospitals and their patients. Some would say we've hit a perfect storm, with cash-strapped facilities, budget shortfalls, uncertain health reform, potential cuts in reimbursement rates, rising numbers of uninsured patients, and this list goes on," said Jimmy Lewis, CEO of HomeTown Health. "Quadax has worked diligently to help our hospitals see some bright spots in this difficult economy. With Quadax's solutions, hospitals, physician practices and clinics see improved bottom lines, while at the same time ensure all patient accounts are treated consistently and appropriately."
Quadax was presented with the award at HomeTown Health's 2011 Fall Conference held Nov. 16-18 in Callaway Gardens, Ga. More than 200 hospital leaders and business partners attended the conference.
About HomeTown Health, LLC
HomeTown Health, LLC is an organization of more than 55 rural and small hospitals, located throughout the state of Georgia, who collectively pursue ways to help our hospitals survive in this environment of tremendous budget cuts from the state and federal level. The mission of HomeTown Health is to ensure that rural healthcare in Georgia is preserved at the local community level wherever possible and that a continuum of care is available to the rural populations of Georgia. What began as a handful of community hospitals 10 years ago has now grown into an organization of over 55 hospital members and 54 business partners. For more information, visit http://www.hometownhealthonline.com.
###