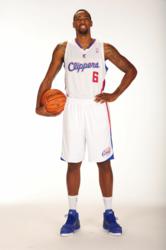 Baltimore, MD (PRWEB) December 21, 2011
Under Armour (NYSE:UA), the leader in performance apparel, footwear and accessories, today announced a multiyear partnership with the electrifying DeAndre Jordan. In his third season in the NBA, Jordan had his best statistical year and played a key role in the resurgence of the Los Angeles Clippers. Jordan joins fellow NBA players Brandon Jennings, Greivis Vasquez, Kemba Walker and Derrick Williams on Under Armour's roster of NBA athletes.
Jordan's partnership with the brand is the latest example of Under Armour's commitment to growth in the sport. Under Armour and the National Basketball Association (NBA) announced a multiyear partnership earlier this month that will allow Under Armour to feature its NBA endorsers in official league uniforms to further promote its basketball footwear. Under Armour and the NBA will also work together to refurbish basketball courts in local communities to support the game at a grassroots level.
"DeAndre has a great motor and plays hard on both ends of the court. Through a strong work ethic and desire to be great he has improved each year and at 23 will continue to grow as a player," said Matt Mirchin, Senior Vice President, Global Sports Marketing, Under Armour. "We're proud to add him to our team of talented young players as we continue to grow in the sport of basketball."
Jordan will make his regular season debut in Under Armour basketball footwear when the Los Angeles Clippers take on the Golden State Warriors on Christmas Day.
"Under Armour is building around an exciting group of players, and the brand has shown a commitment to helping basketball players train and perform better," said Jordan. "I look forward to helping Under Armour reach young basketball players with the message that hard work is the key to success on the court, and I know their innovative footwear will help me improve my game."
The brand's current campaign, "Are You From Here? ™", celebrates the mental toughness of young basketball players. This past fall, the brand supported the campaign with a series of exhibition games featuring Under Armour athletes playing against high school players and alumni in Baltimore and New York City.
For more information about Under Armour basketball please visit facebook.com/uabasketball.
About Under Armour, Inc.
Under Armour® (NYSE: UA) is a leading developer, marketer, and distributor of branded performance apparel, footwear, and accessories. The Company's products are sold worldwide and worn by athletes at all levels, from youth to professional, on playing fields around the globe. The Under Armour global headquarters is in Baltimore, Maryland, with European headquarters in Amsterdam's Olympic Stadium, and additional offices in Denver, Hong Kong, Toronto, and Guangzhou, China. For further information, please visit the Company's website at http://www.ua.com.
###