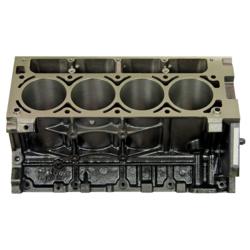 A performance-prepped iron block capable of supporting over 1,400 horsepower.
TALLMADGE, OHIO (PRWEB) December 23, 2011
It's no secret GM's LS engines have incredible potential. But once you start bolting on big superchargers or turbos, a factory aluminum block just can't contain the power. Fortunately, GM made 6.0L cast iron blocks that are plenty strong--and Summit Racing Equipment now offers a performance-prepped version that is rated to over 1,400 horsepower.
The seasoned block features a finished 4.030" bore and a 9.240" high deck, six-bolt main caps, and a one-piece rear main seal. The cam bearings and freeze plugs are included too.
The Summit Racing 6.0L block is clearanced for stroker cranks up to 4.000" stroke with H-beam style connecting rods.
OTHER STUFF WORTH KNOWING: Summit Racing has all the internal parts and external goodies needed to bolt to the 6.0L block--mild or wild, it's your choice.
PART NUMBER: SUM-150105
WHERE TO GET ONE: Order online at SummitRacing.com or call Summit Racing at 1-800-230-3030.
###