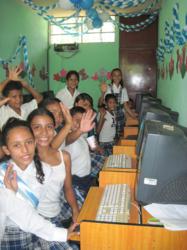 This project will be successful because children of this rural village have not yet had the opportunity to operate a computer.
Escuintla, Guatemala (PRWEB) December 23, 2011
The banana company -Frutera-, together with the Ministry of Education, Microsoft and FUNSEPA, created the first computer lab for a school located in rural Guatemala. This lab is benefiting the 221 children who attend the San Francisco Madre Vieja School located in Tiquisate, Escuintla. This community has a total population of 654 people, half of which are under the age of 15.
With this computer lab, Frutera opened up a new world of communication to students and the entire community. The laboratory will be also available in the evenings as an Internet cafe. Te idea is to generate an income that can be used to make the lab self-sustaining and pay for the maintenance of the equipment. The community will be able to use the Internet to communicate with relatives living outside of Guatemala.
The computers are installed with programs that address the content of Guatemala's Basic National Curriculum, and Frutera is working with FUNSEPA to provide technical training for the school teachers and the community leaders.
Frutera was awarded the "Contribution to the Rural Community" presented annually by the Guatemalan American Chamber of Commerce (AmCham) in the Education category.
Gustavo Bolaños, president of the plantation division of Frutera, stated: "Through our CSR programs, we support several schools. This current project will be especially successful because the children have not yet had the opportunity to operate a computer, and technology plays an important role in the world today."
Frutera is a company that cares for its employees and the communities that surround its operations. We are especially dedicated to the children of our employees and believe it is essential to provide them with a solid education. For this reason we are collaborating with other organizations also dedicated to this cause.
For more information on Frutera, please visit: http://www.frutera.net/eng
###