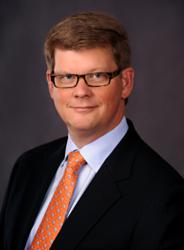 With more than two decades of management experience, Jeff will lead an exceptional team.
Atlanta, GA (PRWEB) December 20, 2011
Jeffrey Parker has been named HNTB Corporation office leader in the firm's Atlanta office.
"The professionals in our Atlanta office serve as trusted advisors to public and private infrastructure owners and contractors throughout the Southeast," said Rob Slimp, Southeast Division president. "With more than two decades of management experience, Jeff will lead an exceptional team committed to meeting client needs and creating innovative opportunities for success."
Parker joined HNTB earlier this year in its Northeast Division as an associate vice president and senior project manager, working on high-speed rail and transit projects. He has served in a variety of leadership roles at multimodal transportation agencies, including commissioner of the Connecticut Department of Transportation, where he oversaw the state's public transportation, highway, bridge, aviation and port operations. He has roots in the Atlanta area, having also held a senior management position at the Metropolitan Atlanta Rapid Transit Authority.
HNTB's Atlanta office employs 57 professionals and provides a full-range of infrastructure services, including design, program management and construction management, and financial resource consulting. HNTB currently serves as the prime consultant for the Georgia Department of Transportation's Innovative Program Delivery Technical Support Services initiative. It also is advising GDOT on the West by Northwest project, which will secure a public-private partnership to add a total of 30 miles of reversible managed lanes along Interstates 575 and 75, and 9.5 miles of managed lanes along portions of Interstates 285 and 20.
The firm was selected as the 2011 "Employer of the Year" by the Women in Transportation Atlanta Chapter.
HNTB Corporation is an employee-owned infrastructure firm serving public and private owners and contractors. With nearly a century of service, HNTB understands the life cycle of infrastructure and solves clients' most complex technical, financial and operational challenges. Professionals nationwide deliver a full range of infrastructure-related services, including award-winning planning, design, program delivery and construction management. For more information, visit http://www.hntb.com.
###