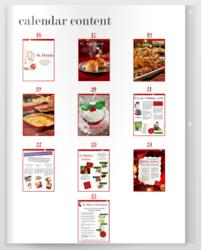 Menlo Park, CA (PRWEB) December 21, 2011
It is the season for last-minute gift shopping, frenzied menu planning, and a never-ending train of holiday parties. User traffic on food-related sites is typically the highest at this time of year, as consumers turn to the internet for help in navigating the holiday madness.
To help ease some of that holiday stress, iFood.tv has created the iFood.tv Christmas Calendar, a special e-book which counts down the 10 days to Christmas. Sponsored by Vitamix Corporation, the world leader in high-performance blending equipment, the calendar features a variety of recipes and tips such as:

A safer Holiday Eggnog, made with egg substitute
Elegant Smoked Salmon Crostini with a Lemon Dill Aioli
A deceptively easy Chicken Saltimbocca to impress your guests
Guinness Chocolate Cheesecake
Easy Homemade Gift Ideas
Tips for Staying Healthy at Holiday Parties
And more
The calendar is presented as an easy-to-read, online magazine, with 27 colorful pages and mouthwatering photographs. Each day has a different theme, reminding readers to take everything one day at a time. The e-magazine is featured on a special holiday landing page which will be promoted with a homepage banner and through iFood.tv's social networks.
Readers also have a chance to win a brand new Vitamix 5200 blender, courtesy of Vitamix Corporation. This premium blender can do the work of 10 kitchen appliances, making life even easier. Precision-crafted stainless steel blades spinning at 240 mph can perform more than 50 different processes without any separate attachments. The blender also features variable speed control, a spill-proof lid with removable plug and a shatterproof 64 ounce BPA-free Eastman Tritan copolyester container. The winner will be able to concoct healthy soups, ice creams, sauces, and more, all with the touch of a button.
To enter the giveaway, readers will need to leave a comment on the calendar landing page, naming a recipe that they could make with their new Vitamix blender. 15 runner-ups will also be selected to win a copy of celebrity nutritionist Kimberly Snyder's Beauty Detox Solution to help shed any holiday pounds and kick-start a healthy New Year. As if that weren't enough, Vitamix is also offering iFood.tv fans exclusive free shipping on all web orders. The coupon code can be found in the iFood.tv Calendar on page 23.
"iFood.tv is a valuable source of food-related information during the holidays," said Vikrant Mathur, co-founder of iFood.tv. "It only makes sense to condense some of our best holiday information into one package. Vitamix's commitment to healthy living was a perfect fit with our goal to make the holidays less stressful and more enjoyable, all in a healthy fashion."
The iFood.tv Christmas Calendar can be found at http://www.ifood.tv/ifoodtv-christmas-calendar-recipes-cookies-and-more. The drawing for the Vitamix prizes will be open until the day after Christmas.
About Vitamix
In business since 1921, Vitamix introduced the first Vitamix blender in 1937 and 13 years later hosted the world's first television infomercial during which Vitamix founder William G. "Papa" Barnard offered his prescient principles of consuming whole foods that hold truer today than ever.
Still family-owned and run to this day, the company itself remains every bit as unique as its products. Vitamix maintains its own health program for its 200+ employees, its products are assembled entirely in the USA and it is one of the few companies still marketing its products directly to consumers. For more information and healthy recipes, visit http://www.vitamix.com.
About iFood.tv:
iFood.tv, owned and operated by Future Today Inc., is a premier destination for food and recipes related video content. On iFood.tv, foodies are coming together to discover new and interesting content, while professional chefs are using the platform to gain exposure and build their brand. With over 40,000 videos and an audience of over 3 million monthly uniques, iFood.tv is the biggest hub of cooking videos online. The company is privately held and based in Menlo Park, California. For more information, visit http://www.ifood.tv.
###