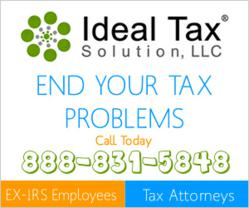 Costa Mesa, CA (PRWEB) December 20, 2011
In recent news, President Obama announced he is extending tax breaks for businesses scurrying to buy equipment for the New Year. This is very beneficial of course, for businesses who are still trying to get the things they will need to start out the New Year. While this seems like some positive light on business owners, there is still a large issue of businesses being upside down with tax debt from years passed.
These businesses are struggling because of wage garnishments and bank levies that are rendering them incapable of paying their bills and payroll in the present. Tax Professionals are consistently able to assist businesses in settling their tax debts and saving their businesses. Perks come along, like Obama's tax break extension, but what about the past? Businesses that have a tax debt can only benefit from these tax breaks briefly before the heavy weight of their balance due shows its ugly face. Helping a business stay on its feet must be done by hiring tax professionals who are able to represent an individual and their business with the IRS. Every day tax debt resolutions save businesses from going under and help Americans who previously owned a business and now have a debt because of it. Using programs like an Offer in Compromise, businesses are able to function with ease once again.
About the company:Ideal Tax Solution, LLC is located in Costa Mesa, CA and provides tax negotiation services, preparation and is a collection defense specialist. Their Tax Attorneys, IRS Enrolled Agents, CPA's, Senior Tax Consultants have over 55 years of combined experience working to help American tax payers with the IRS and State Tax Agencies. Ideal Tax boasts an "A" rating with the Better Business Bureau earned through providing excellent services.
###