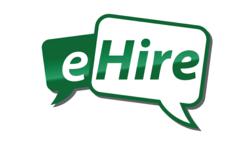 In just the past year we've seen a 55% increase in Twitter followers, an 86% increase in Facebook fans and an amazing 1265% increase in unique visitors to our website. If these trends continue, eHire's business can only continue to grow.
Atlanta, GA (PRWEB) December 21, 2011
Several months ago, eHire announced that they were already embracing Recruitment 4.0. Part of their Recruitment 4.0 Strategy centers around using social media to grow and foster relationships with candidates and clients, while also spreading brand awareness. While other companies are rushing to get their teams trained on various social media networks, the eHire team is already leveraging their social networks to increase eHire's business in 2012.
According to WANTED Analytics™, there have been more than 900 ads placed for Recruiters and Employment Specialists in the past 90 days. Compared to the same 90-day period in 2010, requests for social media skills have increased 117%. Atlanta experienced the most growth, up more than 400% versus the same 90-day period in 2010. Since eHire first observed this current trend, they prepared for it by training their recruiters. They have already integrated social media into their recruiting plans, instead of rushing to hire additional team members with social media knowledge. Here are a few additional ways eHire is using social media in 2012:
1. Moving away from job boards
eHire still posts their jobs online but candidates now have the option to apply through social media outlets including Twitter and Facebook.
2. Recruitment by crowdsourcing
In addition to the company's two corporate Twitter accounts, @eHire and @eHireJobs, every employee at eHire has an active Twitter account.
3. Creating niche talent communities
Almost 2 years ago, eHire started the Atlanta Spring User Group (ASUG), a technology interest Meetup group, which currently has over 300 members.
4. Create content with repeat value
eHire's recruitment blog contains helpful information that candidates can use and share with others including: "Five Job Search Tips You Haven't Heard Before," "Hiring in Bizarre Times," and "Want Career Management Advice? Figure Out What You Want."
5. Engage directly with their audience
eHire encourages participation in their online communities by running contests via Facebook that are entertaining and work related, from their "Geeked-Out Halloween Costume Contest" to their current contest for the "Best 2012 New Year's Work Resolution."
6. Raise awareness for philanthropic causes
eHire supports several philanthropies including Hands on Atlanta, High Tech Ministries and Salvation Army's Angel Tree program. On Facebook and Twitter this year, they shared experiences and information about their causes so that others might get involved as well.
While many recruiting companies will not be able to train their employees or integrate social media fast enough to be effective in 2012, eHire is already seeing success. According to Kate Clark, eHire's Marketing Manager, "In just the past year we've seen a 55% increase in Twitter followers, an 86% increase in Facebook fans and an amazing 1265% increase in unique visitors to our website. If these trends continue, eHire's business can only continue to grow."
###