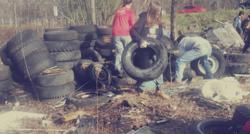 In a single day, a team of concerned individuals can come together, make a difference, and feel good about what they accomplished.
Hegins, PA (PRWEB) December 29, 2011
The United By Blue (UBB) team, along with the help of 25 volunteers, removed over 900 tires from Brett Russell's property in Hegins, PA at a cleanup in November.
For most of his life, Russell had been a competitive powerlifter, personal trainer, and semi-pro racquetball player. Through all of his pursuits, he took active living to a new level.
All of that changed on New Year's Eve, 1995, when he was driving to work in Atlantic City, New Jersey. A hit-and-run drunk driver left his knee crushed so severely that the only fix surgeons could offer was experimental surgery.
Bad luck struck again several years later when a driver attempting to turn a corner slammed on her gas instead of her brakes and crashed into Russell. The second accident injured six disks in Russell's upper back and neck, leaving him even with even more serious disabilities.
"Since the accidents, I have not been able to do things requiring substantial physical endurance or exertion," he says.
Years later, Russell moved from Atlantic City back to his roots in the Ashland and Mount Carmel region of Central Pennsylvania. He bought some property with the intention of building a cabin overlooking the creek that runs through it. Two accidents and a career spent running a casino made the peaceful, scenic retreat especially appealing to him.
But no rest for the weary, it would seem. "I bought the property with the goal of cleaning it up and making it a nice special and relaxing place, but unfortunately the property seems to have been used as a dump area for years," says Russell.
Enter United By Blue (UBB), a Philadelphia-based apparel brand that removes one pound of trash for every product sold. The start-up has been associating every transaction with a concrete environmental action since they were founded back in 2010, and have since removed 80,000 pounds of trash at over 60 cleanups with the help of over 1,000 volunteers.
UBB is a new brand of business, hard-wired to do environmental good. Planning and hosting cleanups is part of its mission. They do their own dirty work, and public waterways across the country are cleaner as a result of their work.
UBB sticks almost exclusively to public waterways, but the team knew that the waste on Russell's property affected more than just his stretch of creek. "It was dirty," says Mike Cangi, UBB's Director of Cleanups. "I mean, it was dirty." So the team decided to see if they could host a cleanup on Russell's property at Weishample Hollow and called him up.
Russell was thrilled to have them. "It is truly impressive that people come forward and give of themselves and their time freely to help this world, and other people in it. I express my thanks for helping to accomplish what I am unable to accomplish myself at this time," said Russell.
The community support was overwhelming. One volunteer, Pam Ulicny, a local teacher and cleanup volunteer, had glowing things to say about the event: "UBB pulled our community together to help to clean up an eyesore and a local environmental concern. UBB demonstrated that in a single day a team of concerned individuals can come together, make a difference, and feel good about what they accomplished. And UBB helped to inspire me to organize more clean-up projects on my own."
United By Blue is an ocean-friendly brand of apparel that removes one pound of trash for every product sold. The brand sells a line of organic cotton t-shirts, canvas bags, and artisan jewelry.
###