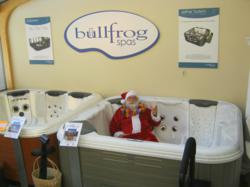 Salt Lake City, UT (PRWEB) December 22, 2011
Bullfrog Spas, manufacturer of the only hot tubs with patented JetPak Technology, today shared 3 long term benefits often overlooked in Holiday gift giving.
The famous fictional figure, Santa Claus, is certainly portrayed as the giver of the best gifts. He's jolly, generous, energy efficient (circumnavigates the globe with magic ungulates instead of jet fuel), and an animal lover. However, there are obvious problems relying on a fictional figure for gifts to truly improve your life this Holiday Season.
Bullfrog Spas reminds us that, luckily, there are three lasting gifts wrapped in one, and only a hot tub powered by JetPaks can bring it home this Holiday Season.
Gift #1 - A Place to Escape for a Few Minutes Everyday
Occasionally "Santa" nails it and leaves plane tickets to Hawaii next to the half eaten cookies, but vacations to exotic locales cannot provide everyday relaxation. Only a hot tub by Bullfrog Spas provides a refreshing escape that can be personalized to your needs every day in your own backyard.
Gift #2 - Reconnection with Loved Ones
Holiday parties with the relatives are one way to reconnect. However, when the crazy uncle dons his two-sizes too small, jingly sweater and starts a nog-fueled brawl over politics, perhaps it's time to reconsider whether the family Holiday party is worth the humiliation involved.
Unlike the awkward family party, a hot tub in the backyard gets the family together the right way.
Many parents confirm that family hot tub time often turns into relaxing open conversations with their children they never thought were possible.
In addition, reconnection in a hot tub can take other forms. For example, there's no better way for Mr. and Mrs. Claus to warm up their cold winter evenings.
Gift #3 - Pain Relief and Therapy
End-of-year holidays unfortunately remind people about the strain that another year of work and life can put on a body, whether that's tension from stress, aches from exercise, arthritis, or just age. Essentially everyone can use a therapeutic hydro massage regimen to help alleviate pain, restore healthy muscle function, and relieve stress.
Recent science shows that hydrotherapy in a hot tub is beneficial for physical health, mental health, and nervous system function.
JetPaks Make These 3 Gifts Even Better
These 3 life changing gifts are only available in a hot tub and no other hot tub offers JetPak Technology. Patented JetPaks provide customizable massages for personalized hydrotherapy, cost savings through the very best energy efficiency, and a durable 100% wood free spa that is better for the environment and made in the USA.
For more information on Bullfrog Spas and JetPak Technology please visit http://www.bullfrogspas.com today or locate your nearest Authorized Bullfrog Spas Dealer.
###