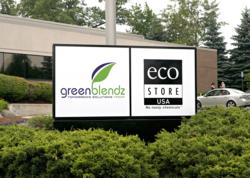 Auburn Hills, Michigan (PRWEB) December 21, 2011
ecoSTORE USA announces the long awaited arrival of its new eCommerce website designed by the local, award-winning creative team at Core3 Solutions.
The new website is designed to educate and appeal to savvy, health conscious consumers looking to purchase non-toxic products for their home at a competitive price.
"With the recent flood of studies showing that harmful, toxic ingredients are being found in many name brand products consumers are purchasing every day," said Lyne Appel Downing, Vice President of Operations for ecoSTORE USA, "it gives our consumers the opportunity to not only join us in our No Nasty Chemical ™ movement but to educate themselves on how to chose safe, healthy products and to share that information with their family and peers."
The new ecoSTORE USA website allows customers to become proactive and interactive by joining a movement that allows them to test products, review them and share their experiences. Active members of the No Nasty Chemicals™ movement will be rewarded. ecoSTORE USA also encourages customers to become brand ambassadors, follow the company on Facebook or Twitter and to participate in other social media activities.
"We were happy to work with ecoSTORE USA in creating their new website," said Ryan Deyer, chief operating officer for Core3 Solutions. "We incorporated modern design, clear call to action and social media integration to join the No Nasty Chemicals™ movement."
Products consist of baby care, personal care, pet care and household cleaning products with more items on the horizon. ecoSTORE USA's plant and mineral based products are formulated and manufactured at its USDA Organic Certified manufacturing plant, Green Blendz, in Auburn Hills, Mich.
For more information on ecoSTORE USA's products visit the new website at http://www.ecostoreusa.com or contact Lyne Appel Downing at 248-932-5150. Fans can follow ecoSTORE USA on Facebook at http://www.facebook.com/ecostoreusa.
About ecoSTORE USA
ecoStore was founded in 1993 by Malcolm and Melanie Rands from their home in New Zealand. Their dream to create a healthier, more sustainable world was indeed ambitious. Providing products for the world whose focus is health and well being is no small task.
ecoSTORE USA was attracted to the message that our personal wellness should not be ignored. Enticed by the New Zealand Precautionary Approach which is "if there is any doubt about the safety of an ingredient for the environment or people's health we will look for a safer alternative," ecoSTORE USA sought to do the same by continuing to formulate and manufacture products that meet these same high standards. Our state of the art manufacturing facility, http://www.greenblendz.com, surpasses all cGMP, FDA quality standards and requirements.
About Core3 Solutions
Founded in 1997, Troy, Michigan-based Core3 Solutions provides technology services to small and medium-sized businesses and was recently named a Crain's Cool Place to Work for the second year in a row. Our web site development, online marketing, and IT solutions are delivered with superior customer service to clients across Michigan and The United States. Core3 has served hundreds of local and global businesses. Our clientele includes: the University of Michigan - Dearborn, Jive Records, Northern Lakes Seafood and Meats, and many others.
Core3 has experienced exponential growth in the past fourteen years, thanks to our team of innovators who continually develop new ways for technology to solve business' needs. For more information on Core3 Solutions, visit http://www.core3solutions.com.
###