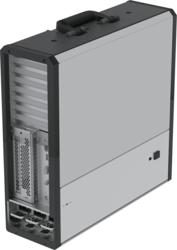 Nashua, NH (PRWEB) December 22, 2011
NextComputing, a leading provider of small form-factor workstations and servers, announces a new addition to its Nucleus family of compact workstations: the Nucleus GP. The Nucleus GP is a small form-factor, mini-tower workstation optimized for GP-GPU computing (General-Purpose computation on Graphics Processing Units). This compact desktop supercomputer provides dense GPU processing, as well as traditional CPU processing, memory, and high-speed storage, in the smallest package available. This makes the Nucleus GP ideal for space-limited environments or for transporting systems among different locations such as large research facilities.
Using the GPU to accelerate complex computations, particularly those of a parallel nature, has been largely adopted within academia, as well as government and commercial applications. GP-GPU computing is particularly mature in the areas of bioinformatics, medical imaging, and weather modeling, and has gained more recent widespread acceptance in computational finance, engineering simulation, intelligence encryption/decryption, and digital content creation.
Hardware used for this type of computing is usually limited to clusters of rack-mounted servers or large desk-side tower workstations. However, there are many situations or environments where access to a cluster is not possible, and a traditional workstation is not practical. For example, research labs with multiple departments spread among different buildings may benefit from a GPU-enabled system that is more easily transported. Space-cramped offices like those sometimes found in converted lofts may benefit high-frequency trading groups. And application domain consultants working with clients around the globe may need to set up shop anywhere their services are needed. A desktop supercomputer that is easy to travel with may be essential to their businesses.
The Nucleus GP offers the same features of a high-end GPU workstation in a system that is around half the size and weight. This system features:
● A compact and space-saving mini-tower chassis: 17.37" H x 16.75" W x 5.80" D
● Support for up to three (3) dual-wide PCI Express 2.0 x16 GPUs such as NVIDIA® Tesla™ C-class GPU computing processors or AMD FireStream™ compute accelerators
● Quad- or Six-Core Intel® Xeon or Core™ i7 processor, up to 3.06 GHz
● Up to 24GB DDR3 1333 MHz memory
● Up to (14) 2.5" SATA or SAS hard drives or SATA SSDs, depending on configuration
● 1300W power supply redundant 2+1 hot-swappable power supply module
The Nucleus GP parallel computing workstation is available now from NextComputing and its authorized resellers. Please call +1-603-886-3874 or email Sales(at)NextComputing(dot)com for more information.
About NextComputing
Based in Nashua, NH, NextComputing is a unique technology company specializing in extreme-performance portables and small form-factor workstations. Its open-standards, modular systems are used throughout many industries for a range of professional applications including real-time 3D visualization, high-throughput data streaming, and high-end application demonstration. Visit http://www.nextcomputing.com for more information.
Copyright legal disclaimer: All trademarks contained herein are property of their respective copyright holders.
###