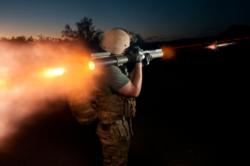 Wilsonville, OR (PRWEB) December 22, 2011
The CTC defense SFL-100 laser sight for the M72 rocket is available in both visible and infra-red versions and is reusable for multiple shots. The module attaches to a factory bore-sighted base plate at the front of the rocket tube. In use, the operator simply sets the range and fires when a projected laser dot appears on the selected target. John Hill, Vice President Business Development for Nammo Talley said "Our partnership with CTC ensures our continued excellence in providing soldiers with the most dependable, highest quality weapon system in the market." "The M72 has a long and distinguished track record," said Dale Suzuki, Director of CTC Defense. "The SFL-100 brings additional functionality and dramatically increases the accuracy capabilities of this man portable weapon system. It gives the operator a huge advantage in low-light and no-light environments. We are proud that CTC Defense is augmenting Nammo Talley's family of weapons and that we're supplying equipment to directly assist in soldier survivability."
The SFL-100 was rigorously tested to meet the requirements of MIL-STD- 810G and is waterproof, shock resistant and offers repeatable accuracy. Weighing only 3.5oz, it adds almost nothing to the warfighter's burden, while making tasks such as explosive building entry or the destruction of enemy fortifications much easier.
About CTC Defense
CTC Defense provides ergonomic, cost-effective laser aiming solutions to the United States military and its allies. CTC Defense is a division of Crimson Trace, which is the world's only manufacturer of grip-integrated laser sighting systems. Police, all branches of the U.S. Military, and responsible citizens worldwide use patented LasergripsTM. Crimson Trace Lasergrips are recommended as an essential accessory by some of the world's top firearm trainers.
For more information, please contact us at 1-800-442-2406, or visit http://www.crimsontrace.com
About The Nammo Group:
The Nammo Group is an international defense and aerospace group specializing in design and production of ammunition products, shoulder launcher munitions systems, missile and space propulsion systems and demilitarization services. The Nammo Group employs 2000 people in 7 countries. Nammo recorded revenues of around 600 million USD in 2010.
For more information, please contact us at 1-480-898-2200, or visit http://www.nammo.com
###