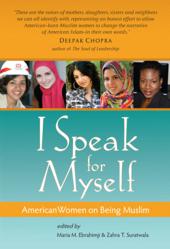 A very important contribution to the growing interfaith dialogue in this country.
Jim Wallis
Ashland, Oregon (PRWEB) December 21, 2011
The Huffington Post has announced their Top 11 Religion Books for 2011, and checking in at Number 2 on their list is "I Speak for Myself: American Women on Being Muslim, edited by Maria M. Ebrahimji and Zahra T. Suratwala. The book is published by White Cloud Press, a small press based in Ashland, Oregon. White Cloud is an independent publisher that specializes in works on world religions, and their books on Islam have been noted for excellence by leading scholars and media.
Huffington Post religion editors commented, "Hundreds of religion books come across the HuffPost Religion desk each year. Stacked in mountains next to our computers, they remind us of the sacred wisdom, religious leadership and academic rigor that so many women and men have shared with us. This year was an especially rich, and we were impressed by the titles that came from across the religious spectrum." The list features books from leading publishers (Knopf, HarperOne, Harper Collins, Houghton Mifflin, Harmony Books).
In describing "I Speak for Myself," Huffington Post notes that, "Everyone has something to say about Muslim women. It was time to hear what they had to say about themselves."
White Cloud was the one of two small presses that cracked the HuffPo Top 11 list along with Orbis Books. "We're very pleased by this recognition," says White Cloud publisher Steve Scholl. "The book gives 40 American-born Muslim women, all under the age of 40, a chance to speak their truths at a critical moment in the public discourse on Islam in America. The Huffington Post has become one of the top online sources for in-depth reporting on religion, so this is an especially gratifying moment."
"I Speak for Myself" serves as a rich source for people of other faiths or no faith who are interested in learning more about what it is like to be Muslim in America. Some of the issues explored include the challenge of balancing Western values with Islamic ones; whether adopting the veil can be an obstacle in the professional arena; expressing oneself as a Muslim within American society; and political engagement. The contributors embody real, everyday American women who struggle with their faith while balancing their careers and private life.
Reflecting on the Huffington Post's accolade, Ms. Suratwala says, "I am thrilled that the book is being recognized in this way. I continue to see the difference this book is making in the dialogue about Islam, and every single person who reads "I Speak for Myself" is contributing to our mission and affecting positive change."
With the success of the book, Suratwala and Ebrahimji have launched the I Speak for Myself series with White Cloud Press. The second volume in the series, "All-American: 45 American Men on Being Muslim," is co-edited by playwright and cultural commentator Wajahat Ali and Ms. Suratwala; it will be released Spring 2012. In Fall 2012, volume three will bring out young voices from the Arab Awakening movement that is transforming the Middle East.
About White Cloud Press:
Since its founding in 1993, White Cloud Press has been publishing acclaimed works on World Religions and Spirituality, Ecology, Yoga, Politics, and Memoirs. White Cloud titles and authors have been praised by the New York Times, Publishers Weekly, Christian Science Monitor, Time Magazine, Washington Post, Parade, People, Tikkun, Chronicle of Higher Education and been featured on CNN, Nightline, PBS, "CBS Evening News," "Good Morning America," National Public Radio, and "The Daily Show with Jon Stewart," among others.
Leaders of thought such as Jimmy Carter, Karen Armstrong, Deepak Chopra, Huston Smith, Queen Noor, Brian Swimme, Cornel West, Alice Walker, Joanna Macy, Jane Hirschfield, Robin Williams, and Greg Mortenson have praised White Cloud Press books.
Publication information:
I Speak for Myself: American Women on Being Muslim
Edited by Maria M. Ebrahimji and Zahra T. Suratwala
ISBN: 978-1-935952-00-8
Original Trade Paperback / $16.95 / 238 pages
Published by White Cloud Press, Ashland, Oregon
Distribution: Publishers Group West/Perseus Book Group
###