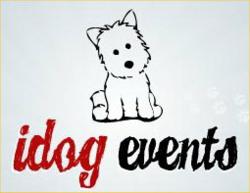 iDogEvents – Changing the way dog owners share their dogs special moments.
Hamburg, PA (PRWEB) December 21, 2011
ND2K, LLC, has launched iDogEvents, an iOS mobile app that has something for everyone with a dog. The app allows users to share in their dog's events, videos and pictures. Organizations can promote their events for free and users can cross promote the event by checking in to the event when they arrive and post status updates, pictures and videos.
There are over 78 million dogs in the US, and Apple has sold over 72 million iPhones in their last fiscal year, resulting in almost one iPhone per dog (yes the iPhone is so easy to use that your dog could use it). iDogEvents links events and people involved with dogs from pet owners to show dog owners, veterinarians to groomers, fund raisers to clinics, simple dog walks to competitive events, and much more. Sharing status updates, videos and pictures resulting in 'viral' events.
iDogEvents also allows its users to share moments from their own home, visit to the vet or pet shop though the daily "my dog" events. iDogEvents makes it easy for users to follow other posts of breeds they like, people they like, events that they are at, and everything in between. Pictures and videos that users post on iDogEvents are also shared on their Facebook page.

iDogEvents – Changing the way dog owners share their dogs special moments.
Available Immediately.
iDogEvents can be found in the App Store now.
Developed by ND2K LLC to crowd source and share information in the dog world
Here are examples of how people are using iDogEvents.
Pet owners – post a video of Fido's new trick, or cute moment
Veterinarians – create events promoting their clinics, or post pictures and videos of each patient promoting their practice and expertise
Groomers – post before and after pictures to show off their skills and attract new clients
Show dog owners – post ring side pictures and videos of their dog's
Pet Walkers/Sitters – post pictures and videos of their services
Professional Handlers – post pictures and videos from ring side so their clients can see their dogs winning as it happens
Dog Parks – post events and daily photos and videos to help get the word out
Pet Shops – post events and photos and videos of their customers and their dogs
Dog Clubs – share their educational presentations as they happen
Rescue Organizations – post pictures and videos of fund raising events or their latest rescue
For more information please contact Dave Kauffman at 484-525-0364, or e-mail Dave at dave(at)idogevents(dot)com.
ND2K, LLC is the leading innovator of technology in the dog world, with TopK9s.com and BullyNet.com. In 2008 TopK9s spun up a live web stream of the National Dog Show followed by the Bulldog Club of America National Club show, pushing the limits of live events with 10 straight days of video streaming, all free of charge to the entire world. ND2K quickly realized that it could not cover all of the awesome dog events, and created iDogEvents.
###