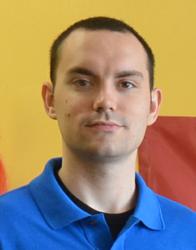 Love146 stands up to the hidden monsters who enslave children. It is an honor and privilege to work with such heroic individuals.
Mesa, AZ (PRWEB) December 23, 2011
LeTip International, the Premier Professional Leads Organization, recently held a contest for chapter members to show off their business display skills -- referred to as "showboating," in LeTip vernacular. Ed Turney, the winning LeTip Member, won $1,000. Turney's home chapter, LeTip of Port Jefferson NY, also won a prize of $250. But the story doesn't end there.
Turney, owner of Shaolin Kung Fu Studios, is the chapter's Martial Arts Instructor. He has meticulously trained in the traditional martial arts, and dedicates his life to the principles of Shaolin, which include focus, discipline, selflessness, and compassion. These positive attributes have translated to all aspects of his life – both personal and professional.
Right from the beginning of his involvement with his chapter, Turney has upheld the highest LeTip standards. He consistently receives Top Tipper honors in his 50 member chapter, and is generous with his time and advice. "I joined LeTip of Port Jefferson because I was so impressed with the ethics and quality of the members," said Turney. "I have learned so much by being a member, but equally important to me is that LeTip is a community of business people, who really care about one another."
Turney worked diligently to submit an extraordinary showboating entry. His photo submission, along with nearly 100 others, was displayed in a voting gallery on LeTip International's website. Members from across the USA and Canada overwhelmingly responded to Turney's display making him the winner of LeTip International's First Annual Showboating Contest. In keeping with his generous spirit, Turney donated his entire $1000 prize to Love146, a charity to which he is deeply committed. "Love146 stands up to the hidden monsters who enslave children. This organization rescues and rehabilitates these young victims of the sex trade," said Turney. "It is an honor and privilege to work with such an organization and the heroic individuals who save these children."
The LeTip of Port Jefferson Members were so moved by Turney's benevolence that, without reservation, they also donated their portion of LeTip's Showboating Contest prize money to Love146. "We are extremely proud to recognize Ed Turney as an exemplary member of our chapter and are pleased to advance the cause of his charity," said Chapter President, Peter Pak. Kim Marie Branch-Pettid, CEO of LeTip International said, "Ed Turney and his chapter illustrate the meaning of generosity. At a time when everyone struggles with economic concerns, such kindness further encourages each one of us to reach out, to share, and help one another."
About Shaolin Studios
Shaolin Kung Fu Studios has been teaching traditional martial arts in Rocky Point, LI, for the past 16 years. The studio focuses on the traditional teachings of Shaolin and applies those teachings to the modern world. http://longislandshaolin.com/
About Love146
The mission of this charity is to combat horrific crimes against humanity; namely, child sex slavery, trafficking, and exploitation. Love146 tackles prevention and provides aftercare to the victims of these heinous crimes. Their wonderful work has had a tremendously positive impact throughout Asia, Europe, and North America. http://www.love146.org
About LeTip of Port Jefferson
LeTip of Port Jefferson meets every Tuesday morning from 6:46 A.M. to 8:31 A.M. at the Lake Grove Diner, 2211 Nesconset Highway (Route 347), Lake Grove , NY 11755. Inquiries about membership opportunities are welcomed. Contact information is available on our website: LeTip of Port Jefferson
About leTip International
LeTip International is a privately owned, professional business leads organization. Since 1978, LeTip programs have helped over 120,000 members, throughout the United States and Canada, build business success through personal referrals.
LeTip International's structure set the standard in the word-of-mouth referral industry. Members are known for their professionalism, dedication, and loyalty to one another, and to the LeTip Program.
LeTip Chapters meet weekly to exchange qualified leads, build solid business relationships, develop strong presentation skills and become proficient networkers. Only one representative of any given profession is accepted into a chapter, and members are chosen for their occupational expertise. To sign up for LeTip's Free Business Survival Tips, or for more information, please visit http://www.LeTip.com
###