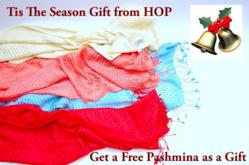 Pamper Yourself In Style
New York Area, NY (PRWEB) December 22, 2011
Winter is here with its fun and festivities and Holidays. There are deals and discounts a plenty to choose from while shopping. In this festive season, HOP Cashmere brand brings a unique "Tis The Season" program that provides an opportunity for customers to enjoy winters and also get excited to welcome the upcoming spring season. For winters a warm and fine Pure Cashmere Pashmina is needed and for spring, a nice colorful and stylish but not so warm scarf will be just a perfect accessory. "Tis The Season" program from Home Of Pashmina lets customers choose a nice and stylish silk cashmere Basket Weave Pashmina as a Gift from HOP when they order any 100% Cashmere Pashmina on Home Of Pashmina website. To get details or to order, see Home Of Pashmina website.
The Basket Weave Pashmina from Home Of Pashmina is a unique open weave basket that is very suitable pashmina for the mild weather of Spring in USA. Owing to its wrap size (28x80 inch) with 3 inch tassels and available in 14 colors, this Pashmina makes a nice spring season scarf that is both warm and stylish.
"We would like our customers to get excited for the spring season while at the same time enjoy the nice cold winters with a warm Cashmere wrap. The combination of 4 Ply Pure Cashmere wrap and a Basket Weave Pashmina in this offer is a unique way for us to Pamper Our Customers In Style. Afterall that is our key motto always." – says Anu – President of Home Of Pashmina and owner of HOP Cashmere brand.
This offer is open only for 7 days starting from Dec 21th to Dec 27th and can be availed only on Home Of Pashmina website.
About Home Of Pashmina and HOP Cashmere Brand:
Home Of Pashmina, the owner of HOP Cashmere brand is a New York area based Cashmere Pashmina Design/Import House. Anu C – President of Home Of Pashmina has many years of experience as merchandiser in a apparel manufacture and export company and is a Pashmina Enthusiast. Anu has also appeared in New York Area magazines as a upcoming women entrepreneur and Pashmina lover.
For more information about Home Of Pashmina or to order a press kit, please contact:
Anu Chandwani
Telephone: 800-757-2297
Email: ac(at)homeofpashmina(dot)com
Online: homeofpashmina.com
###