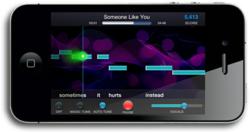 "We describe our apps as 'Games With Benefits.' Unlike casual click games, our players actually improve their singing and complete each game session with a piece of art: a recording of their perfectly tuned performance."
San Francisco, Ca (PRWEB) December 21, 2011
StarMaker Interactive, the leading creator of singing and karaoke game apps has unveiled a significant update to their flagship app. After integrating genuine Auto-Tune earlier this year, StarMaker has now introduced sophisticated proprietary scoring technology, giving singers real-time feedback on their performances while they create personalized versions of Top 40 radio hits. With a growing community of over 1 million singers, StarMaker is attracting the eyes, ears, and vocal chords of music lovers looking to take their fandom to the next level.
"Mastering your favorite song through watching an interactive visualization of the notes you're singing is incredibly fun and expressive," says Jeff Daniel, CEO and co-founder of StarMaker Interactive. "We describe our apps as 'Games With Benefits.' Unlike casual click games, our players actually improve their singing and complete each game session with a piece of art: a recording of their perfectly tuned performance."
With a constantly-updated library of the latest popular songs, StarMaker boasts 90% of the #1 songs from the 2011 Billboard Mainstream Top 40 chart. Guided by song requests from users, StarMaker's dedicated music team sources new music from a variety of sources to keep their catalog of over 500 hits, classics, and viral up-and-comers growing larger by the week.
One of the top 25 free music apps in in the App Store, the StarMaker platform has seen over 1 billion notes sung and recorded this year alone. More than just a mobile karaoke machine, StarMaker's sophisticated performance scoring technology allows its users to objectively monitor their improvement and to earn rewards: as players advance through the game they receive free song tokens, redeemable for any song in StarMaker's catalog. "There's an incentive to sing with us," says Nathan Sedlander, president and co-founder of StarMaker Interactive. "With games driving such immense activity in the mobile space, their mechanics present huge potential for personal improvement. The newest StarMaker experience makes singing fun and playful, with the very real opportunity to enhance your own artistic abilities."
Download the free app from iTunes: http://itunes.apple.com/us/app/starmaker-karaoke-auto-tune/id342138881?mt=8
About StarMaker Interactive:
StarMaker Interactive is a leading developer of music-based social media platforms that empower anyone to participate in music creation. Their flagship product StarMaker enables users to sing and share personal recordings of their favorite songs by top artists such as Adele, Justin Bieber, Lady Gaga, Bruno Mars, Maroon 5. Complete with high quality voice effects and processing, sophisticated game dynamic integration and access to a huge catalog of hit songs, StarMaker stands to revolutionize music engagement. Their other apps include Auto-Tune Birthday, Carolizer, and KIDZ BOP's karaoke app. StarMaker Interactive was founded in 2010 by a pair of music industry veterans and is headquartered in San Francisco.
Connect with StarMaker on Facebook: http://www.facebook.com/starmakerstudios
Follow StarMaker on Twitter: http://www.twitter.com/starmakerapp
##