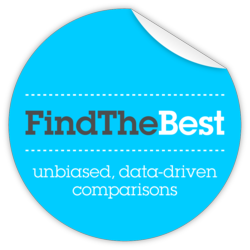 Santa Barbara, CA (PRWEB) December 21, 2011
FindTheBest, an unbiased, data-driven comparison engine, offers the ultimate tools to equip a cozy home theatre this holiday season.
Whether it's HDTVs, projectors or universal remotes, use FindTheBest for more informed decision making.
These tools – FindTheBest's Smart Ratings, which are hybrid ratings compiled from expert reviews and quantitative data, and Buyer's Guides, which are detailed descriptions of products and industries – lead shoppers through every stage of the buying process.
When it comes to building a stunning home theatre, start with FindTheBest's Buyer's Guide for HDTVs. All the information needed to make an informed decision – whether it's what to look for in an LED or Plasma TV to finding the smoothest display rate – can be found in the guide.
Once the Buyer's Guide information has soaked in, FindTheBest's interactive comparison page lets users filter the list of HDTVs based on features like display technology, screen size and refresh rate.
On this page, users will see FindTheBest's Smart Rating, a circular dial with a number from 0 to 100 in the center. This is an indicator of the product's overall quality. A product whose green dial includes a number from 75 to 100 indicates extremely high quality based on industry reviews and quantitative data.
Expert Tip: Check out the best smartphones or tablets—many of them will offer DLNA support to stream Netflix right from the device to a TV.
Once the list is sorted to a user's preference, compare several of the TVs side-by-side by selecting the ones that appeal most. In a side-by-side view, users can easily see the minute differences between two products.
To bring even more clarity to shopping decisions, FindTheBest awards Smart Badges to products with consistently high Smart Ratings. A Smart Badge clearly indicates industry-leading products with a blue FindTheBest symbol.
Look for the Smart Badges for all the products needed in building a great home theatre this holiday season: HDTVs, universal remotes and projectors.
###