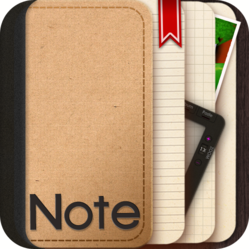 A Fantastic Tool to Preserve Your Great Memories.
(PRWEB) December 22, 2011
Kdan Mobile has released a significant update for its note-taking app, NoteLedge for iPad, which combines handwriting, typing, audio and video recording all in one package. To celebrate the upcoming Christmas holidays, NoteLedge 1.1 provides four E-card templates and a wide collection of Christmas-themed stamps that allow users to design and decorate one of a kind Christmas cards for their loved ones. Furthermore, users are given the ability to customize note templates using pictures from their photo library. The newly-added palm rest area, on the other hand, ensures a smooth handwriting and drawing environment for stylus users. This update is also equipped with richer functionality that supports various photo filters, Facebook integration, and WebDAV client.
As indicated by Kdan Mobile, NoteLedge enables iPad users to easily jot down notes and create travel journals with its featured patented tool, the Navigator. It is a movable and resizable gadget that can be used to take snapshots of selected contents on a note page and save them to a library for further uses. In addition to the Navigator, NoteLedge is recognized for its friendly and gorgeous user interface as well as multiple audio and video recording functions, which are of great benefits to making scrapbooks, writing down meeting or class notes, and recording brainstorming results. The developer also announced that NoteLedge was picked as a New and Noteworthy app on the App Stores of Japan, Australia, and New Zealand after the first week of its release.
"NoteLedge does more than just note taking. It generally shortens the distance between our users and their acquaintances," says Chris Su, Product Designer Director of Kdan Mobile. He carried on, "People nowadays live busy lives and lack time to build up interpersonal connections. NoteLedge is designed to remove this invisible gap by making life sharing easier than ever before. With this app, you can simply share an interesting note or travel diary, send warm wishes through e-cards, and always keep in touch with those you love and care about."
Device Requirements:

Compatible with iPad
Requires iOS 4.0 or later
30.5MB
Pricing and Availability:
NoteLedge is $2.99 USD and available worldwide exclusively through the App Store in the Productivity category.
About Kdan Mobile Software
Kdan Mobile Software is a company specializing in mobile application development. Kdan aims to bring a ubiquitous mobile operating environment to end users by providing innovative service and powerful technology. © 2011 Kdan Mobile Software Ltd. All Rights Reserved.
###