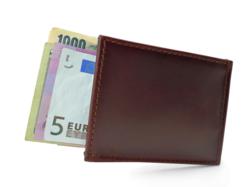 Loyal Slimmy customers shared a desire for a luxury version of our minimalist inspired design.
Cleveland, OH (PRWEB) December 21, 2011
Already established as the "slimmest wallet on earth", Koyono's popular Slimmy® now includes the Coloma™ Collection, made with Korchmar's finest leather. "Loyal Slimmy customers shared a desire for a luxury version of our inspired minimalist design", said Jay Yoo, company Founder and President "…we specifically chose Korchmar oil tanned steer hides for their remarkable beauty and unsurpassed durability".
Named for the fabled valley where the California gold rush began, the premium Slimmy® Coloma™ Collection evokes an ambitious spirit that transcends the status quo and dares to demand the very best in life. It's the uncompromising choice for the iconoclast who pursues the gold standard at every opportunity.
During the precise hand crafting of each wallet, top grade Texas steer hides go through a time consuming process of tanning, stuffing, shaving and polishing. Each is thoroughly soaked in vegetable tanning agents and aniline dye that completely penetrate the hide with color, ultimately allowing the beauty of the natural grain to show through.  "Only the best hides meet Korchmar's rigorous standards", said Yoo, "…otherwise imperfections would be easily detectable".  Rich, pliable and wonderful to the touch, the Slimmy with Korchmar premium oil tanned leather is the finest international wallet on the planet. It redefines the understanding of what a wallet can be.
Contact: Jay Yoo | press(at)koyono(dot)com | 216-223-8129
About Koyono Company
Koyono Company is a purveyor of apparel and accessories that unify technology and fashion and are marketed through Koyono.com and Amazon.com. Slimmy® was introduced in 2004 by Koyono as the "Slimmest Wallet on Earth" and quickly climbed the charts on Amazon.com as one of the best selling wallets. Since Slimmy's debut, it has been featured in the New York Times and many other popular style and gadget blogs. It has become a favorite among design and tech enthusiasts who love simple and minimal. Koyono Company is headquartered in Cleveland, Ohio.
Koyono® and Slimmy® are registered trademarks of Koyono Company in the United States.
###