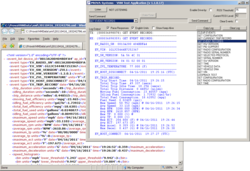 (PRWEB) December 21, 2011
Carbondale, PA ( 21 December 2011) - Prova Systems, a leading developer of wireless OBD-2 VHM diagnostic monitors and trip loggers for vehicle fleet management systems is announcing the launch of version 2.0 of its Developer's Kit for 3rd party Fleet Management applications and OBD-2 diagnostics.
The updated developer's kit provides access to all of the data collected and analyzed by the VHM's fuel efficiency monitors including vehicle idle times and odometer readings, driver behavior monitors and engine diagnostic monitors. It includes full trip reporting information and updates to the existing tools and documentation and includes:

Support for new Hybrid and Electric Vehicle VHM
Radio support for Zigbee communications and/or 802.15.4 implementations
Support for Prova's wireless Zigbee sensor hub
Pass through mode enabling live queries of both generic OBD-2 PIDs and OEM specific PIDs
Support for hybrid and electric vehicles expands the scope of the Prova products to support green automotive technology that is increasingly being rolled out in fleets across the globe. These new VHMs can be toggled between internal combustion engine (ICE) and hybrid / EV mode making it easy to work with fleets that will begin migration from ICE to hybrid or electric vehicles over the next few years.
The developer's kit also adds support for a standard Zigbee interface as a complement to Prova's existing Zigbee/802.15.4 system which makes implementing OBD-2 diagnostic data into existing AVL and GPS systems simpler and dramatically improves the quality of data collected by vehicles being managed by AVL and GPS fleet management systems.
The VHMs also supports communications with 3rd party Zigbee and 802.15.4 sensors which measure temperature, proximity, strain or any one of a number of critical sensors. The sensor data can be included in the VHMs trip records for reporting sensor information back to the fleet management system.
'We've had lots of requests for these new features from our customers,' indicated John Collins, President at Prova Systems, ' the developer's kit offers the easiest way for existing fleet management system providers to integrate detailed diagnostic data into their applications. It also enables fleet service organizations and fleet maintenance application providers an opportunity to add automated vehicle maintenance updates to their systems which has a monthly fleet management operational cost of $0/vehicle. "
The new version is available for immediate shipping and costs $995. The developer's kit comes with and includes two Prova VHM devices, a Zigbee/802.15.4 USB Access Point, API documentation, test application and XML converter. The program also enables fleet management application companies to resell Prova's full range of diagnostic hardware to support their applications.
ABOUT PROVA SYSTEMS: Prova Systems designs and manufactures wireless vehicle diagnostics systems for use in fleet management, drive-by emissions testing, secure access controls, usage based insurance programs and other critical commercial applications. Prova's line of wireless OBD-2 vehicle monitors, wireless sensors and analysis products capture real-time operational diagnostics for use in its own products and 3rd party products. The company focuses on OEM and aftermarket technologies which make consumer and commercial vehicles safer, more fuel efficient and greener. The company is based in Carbondale, PA and sells its products directly and through resellers in the USA and internationally.http://www.provasys.com http://www.fleet-genius.com
###