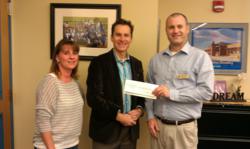 We were blown away by the donations and thrilled to help schools!
Highlands Ranch, Colorado (PRWEB) December 21, 2011
Highlands Ranch orthodontist, Dr. Gary Holt, concluded his annual Cash-for-Candy program in sweet fashion. The orthodontist, recognized by 5280 magazine as one of the top docs in Denver, added a new wrinkle this year to his program.
Typically, in years past, the patients and families could donate their candy and earn $1 per pound of candy donated. This year Dr. Holt, a Highlands Ranch resident and proud parent of children in Douglas County schools, decided to take a stand to address the funding issues facing local schools.
His stand was to have the candy donors nominate a school they would like the money donated to instead of getting money for themselves. $1 per lb would be donated to the school of choice and the school with the most donated money would win an additional $250 from Dr. Holt's Highlands Ranch orthodontist office.
"I was not sure how it would be received, but I had high hopes that people would rally around the schools," shared Dr. Holt.
This Highlands Ranch orthodontist and his staff were completely overwhelmed with the response. A total of 786 lbs of candy was donated! The winning school, Stone Mountain Elementary in Highlands Ranch, donated over 260 lbs of candy. They received $260 plus the winning prize of $250 for a total of $510 given directly to the school.
What started out as just a fun idea between Dr. Holt and his 12 year old daughter, who helped him shoot the promotional videos, resulted in a surprisingly big splash of impact on his community.
"What a great idea! Dr. Holt's big heart for the Douglas County school system is remarkable. I'm proud to say that my daughter is one of Dr. Holt's patients," stated Debra B.
On behalf of his Highlands Ranch orthodontist office, Dr. Holt donated well over $1,000 to local schools to help with their fundraising efforts.
"We were blown away by the donations and thrilled to help schools with their fundraising efforts!" shared Dr. Holt's Highlands Ranch orthodontist staff.
The candy was donated to two worthy organizations, Operation Gratitude which sends care packages to troops in Afghanistan and Iraq, and Baskets of Joy, a Denver based project that sends care packages to the elderly of the Denver metro area.
Dr. Holt noted that the contest seemed to light a bit of a fun rivalry between some of the schools to see who would win the $250 bonus. He hopes to see it get bigger every year from here forward.
"I think we have a winning combination of helping oral health, helping schools fundraise, and helping worthy causes. I'm totally committed to helping our community and look forward to this event getting even bigger next year!" shared Dr. Holt.
Dr. Holt and the Highlands Ranch orthodontist office staff wish you and yours a happy holiday season and thank everyone for their participation and support in the cash-for-candy event.
About Dr. Gary Holt.
Dr. Holt has been named Best of the Best Highlands Ranch Orthodontist by the Highlands Ranch Herald and recognized by 5280 magazine as one of the top docs in Denver He is a member of the most esteemed orthodontic and dental associations both nationally and locally. He specializes in personalized orthodontic care to children, teens and adults. He is a public lecturer and published author. He lives in Highlands Ranch with his wife, two daughters, son, and two Yorkies. He and his wife enjoy cycling, running and both have completed the Ironman Triathlon. He loves raising his family in Highlands Ranch and in his free time enjoys running the east-west trail up to Highlands Point or cycling Deer Creek canyon, where the views are amazing.
For media inquiries, please contact Dr. Holt by email at info(at)drgaryholt(dot)com or stop by the office:
Gary M Holt DDS PC
4185 E Wildcat Reserve Pkwy #100
Highlands Ranch, CO 80126
(303) 738-3175
###