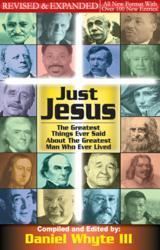 "At the end of the day, only one thing matters, and that's Jesus, Just Jesus, and nothing else."
Dallas, TX (PRWEB) December 22, 2011
National bestselling author, Daniel Whyte III, has compiled two books that keep the focus on Jesus Christ during the Christmas Season: the revised and expanded version of Just Jesus: The Greatest Things Ever Said About the Greatest Man Who Ever Lived (includes over 100 new entries) and Just Jesus (Volume Two): More of The Greatest Things Ever Said About the Greatest Man Who Ever Lived.
Just Jesus: The Greatest Things Ever Said About the Greatest Man Who Ever Lived (Volume 1) is revised and expanded and now includes over 100 new entries by famous people about Jesus Christ. Whyte writes that he has put these books together to show appreciation for what Jesus Christ has done for him and to "challenge the gross commercialization that surrounds the 'celebration' of His birthday during the Christmas season. My humble hope is that, at least, some people would be reminded that it is not about them, and it's not even about others; it's all about Him."
He goes on further to say, "Your heart will almost burst with joy and praise as you read what some of the most important people of the past and present, most Christian, some non-Christian, have said about the most important Person who ever lived. I believe that your spirit will soar to higher heights in praise of the One who died for us as you read these eloquent and powerful quotations. The mighty words contained in this book are about the greatest figure who ever graced the earth -- yet our Saviour and Friend -- Jesus -- Just Jesus!"
In the second volume of Just Jesus, Whyte made a special effort to include quotes about Jesus Christ from people who have lived in the past 100 years, and thus may be more familiar to the reader. Many of these quotes are highlighted in different type throughout the book. These quotes are from luminaries in the entertainment, music, literary, sports, religious, business, and political arenas. "We hope that the inclusion of these quotes would make the book easier for readers to relate to and more enjoyable to them as they read," Whyte says.
Daniel Whyte III has spoken in meetings across the United States and in twenty-three foreign countries. He is the author of seventeen books. He is also the president of Gospel Light Society, a worldwide evangelistic ministry that reaches thousands with the Gospel each week, as well as president of Torch Ministries International, a Christian literature ministry which publishes a monthly magazine called The Torch Leader. He holds a Bachelor's Degree in Theology from Bethany Divinity College, a Bachelor's degree in Religion from Texas Wesleyan University, and a Master's degree in Religion from Liberty Baptist Theological Seminary. He has been married to the former Meriqua Althea Dixon, of Christiana, Jamaica for twenty-five years. God has blessed their union with seven children.
Just Jesus Volumes 1 & 2 are available wherever fine books are sold, including: Amazon Kindle for just $2.99. Readers can also download and read these books on their iPhone, Android, BlackBerry, Windows Phone, iPad, PC or Mac. These books are also available on Barnes & Noble Nook and will soon be available on Apple iBookstore, Google eBooks, Sony Reader, Kobo, and Diesel Ebooks. The printed (coffee table) version of these books retail for $13.99 and can be purchased from Amazon.com and wherever fine books are sold.
Just Jesus (Volumes 1 & 2) are also available in Spanish, French, German, Italian and Portuguese on Amazon Kindle. Direct purchase links for these language versions are below:
SPANISH
Volume 1 - https://www.amazon.es/dp/B006ONJ1V6
Volume 2 - https://www.amazon.es/dp/B006ORKYN6
FRENCH
Volume 1 - http://www.amazon.fr/dp/B006OSS9E6
Volume 2 - https://www.amazon.fr/dp/B006OSSB08
GERMAN
Volume 1 - https://www.amazon.de/dp/B006OO06CI
Volume 2 - Coming Soon
ITALIAN
Volume 1 - https://www.amazon.it/dp/B006OS2WY4
Volume 2 - http://www.amazon.it/dp/B006P7M31Q
PORTUGUESE
Volume 1 - https://www.amazon.com/dp/B006ONUWCS
Volume 2 - https://www.amazon.com/dp/B006ORR3Z8
# # #