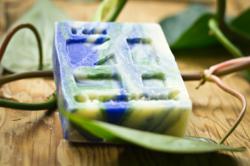 The Cold Process Soap is handmade from a blend of natural oils with ingredients that are organic.
Denver, CO (PRWEB) December 21, 2011
The 30 minute television show called "Living in Style" in carrying on their tradition of introducing viewers to innovative ideas with a featured series on a skin care business created to bring dignity and self development in the lives of women overcoming the challenges of physical and emotional abuse via a company called I am a FORCE4GOOD.
The featured company provides young women a location for rebuilding lives through a non-profit social enterprise which specializes in helping recovering individuals establish independence via the powerful social program which has the initials J.O.B. - a simple life changing concept allowing the individual to re-build through social interaction which many experts classify as the key to personal growth.
The targeted goal is to employ individuals in recovery into the Production Facility allowing participants to create a job history and work references while helping to produce products that are made from the finest products in the world, organic, natural and plant based while also supplying needed assistance and the training necessary to secure a permanent job in the local community with the desired goal of a productive and happy lifestyle.
Upcoming T.V. Schedule Listings:

KPXC Denver December 21, 2011 Wednesday 9:00am
KPXM Minneapolis December 22, 2011 Thursday 10:30am
WRPX Raleigh December 22, 2011 Thursday 11:30am
WPXV Norfolk December 23, 2011 Friday 7:30am
For more information on "Living in Style": http://www.livinginstyle.tv
For more information on I am a FORCE4GOOD: http://www.iamaforce4good.com and http://www.soap4dignity.com
###