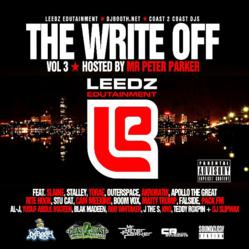 Miami, FL (PRWEB) December 22, 2011
Leedz Edutainment recently released its mixtape "The Write Off Vol. 3." Coast 2 Coast Mixtapes and DJBooth.net present the project, which is hosted by Mr. Peter Parker and now available for free download. "The Write Off Vol. 3" features tracks from Stalley, Stu Cat, Blak Madeen, Torae, Apollo The Great, Al-J, Akrobatik, Slain, Rite Hook, Ricky Mortis, XL, Lateb The God, Amadeus The Stampede, Cam Meekins, Boom Vox, Yusuf Abdul Mateen, Junelyfe & Spenda, Pack FM, Radix, Kosha Dillz, Elemental Zazen, and J The S.
Leedz Edutainment became an official record label in 2009 with international distribution through Traffic Ent. "Mass Movementz The Album" was the first release in February 2009. It quickly gained critical acclaim and opened the door for many projects to be released. The label rapidly released many more, including Rite Hook's "E.ye A.ssume D.amage," Blak Madeen's "Sacred Defense," Amadeus The Stampede's "House of Broken Mirrors," Matty Trump's "The Trump Card," and Slaine's "White Man is the Devil Vol.1" (re-release) within the first year.
In 2010, Leedz Edutainment parted ways with Traffic and started working independently. It has released numerous projects from many artists, including "The Write Off" mixtape series. In a city that needs more support for its own, Leedz Edutainment has become a staple in the Boston hip hop scene. "I made the decision along time ago that this is what I was going to do with my life," says Ned Wellbury, aka Leedz, the founder of Leedz Edutainment. "I've sacrificed more then you could ever imagine in this game. Failure is not an option and I'm not stopping until the world hears this music."
Originally from the Boston area, Minneapolis' Mr. Peter Parker has now cemented himself as the only major mixtape DJ in the area. In conjunction with radio workouts, he hosts his own exclusive mixtape project series: "How Hard Do You Hustle?" and "Grind Season Go-Getters." The official mixtapes, cheered on by the hottest talent in the mixtape game such as Lupe Fiasco, Ice Cube, Wiz Khalifa, J.Cole, Wale, Styles P, Freeway, David Banner, Guru from Gangstarr, and Saigon just to name a few, have created major buzzes in the music business. Mr. Peter Parker is an official Coast 2 Coast DJ, along with his affiliation with Shadyville and Core DJs.
"The Write Off Vol.3" is now available for free streaming and download at http://coast2coastmixtapes.com/mixtapes/mixtapedetail.aspx/leedz-edutainment-presents-the-write-off-vol-3.
# # #