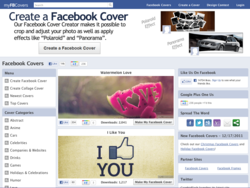 High quality Facebook Covers make you to stand out from the rest of your friends with a unique profile!
Bethpage, New York (PRWEB) December 22, 2011
Since its inception in September, myFBCovers.com has been the primary destination for early users of Facebook's new Timeline looking to customize their profile covers. Now that the user base is growing sharply, so is myFBCovers.com.
Previously, the Timeline profile was on an opt-in basis only, with early adopters choosing to test out what would soon replace the standard Facebook profile. After what has been a successful testing phase, Facebook recently decided to officially begin the roll-out process. This means a huge increase in the number of people interested in customizing their profile with a Facebook Cover, which can easily be seen as the highlight of the new profile. As of Friday, December 23, all users of Facebook will have the new Timeline profile. This has only meant good things for myFBCovers.com, seeing as its traffic increased tenfold after the Timeline was released for opt-in last Thursday.
myFBCovers.com has been the leading source for custom Facebook Covers for a few months now, and since the Timeline has started to spread, it noticed a tremondous spike in traffic. Now, it is rapidly growing, boasting thousands of unique users every day. It has been featured as a prime option for customizing Facebook profiles on many websites and blogs, including MSNBC, TechCrunch, Yahoo!, CNet, All Facebook, and the Washington Post Online. This easy-to-use website contains thousands of different Timeline Covers to spice up a Facebook profile page, and with over 21 different categories to choose from, there is something for users of all ages.
It isn't only its quality library of Facebook Covers that separates myFBCovers.com from the competition, however. It has unique features, such as the one of a kind, Photo Collage Cover Creator. This allows a user to take 24 of their friends and showcase their profile pictures as an attractive Facebook Cover. Additionally, it has a custom Facebook Cover Creator with special effects. These include color changes (such as black and white or sepia tone conversion), fun effects (such as emboss, Polaroid effect, and sketch), as well as the ability to manipulate the image's dimensions to better fit the space allotted for the Facebook Cover.
User-designed content has always been an important part of websites developed by GraphicFlash LLC, and myFBCovers.com is no exception. Now, they are choosing to reward their users for their Facebook Cover creation efforts. Soon, the Facebook Cover Design Contest will be launched. GraphicFlash LLC plans to make this a monthly event in which $500 will be given away to the user who designs the Facebook Cover with the most unique user downloads. This will not only reward users who help make the site better; it will also increase the number of users who design covers, resulting in an overall benefit for site content.
Since the Timeline profile has been reaching more people, the developers at GraphicFlash LLC are very excited about the way that myFBCovers.com has been growing. Its popularity can even be seen in similar sites which are being created to meet the ever-increasing demand for quality Facebook Covers. myFBCovers.com intends to grow with the increase in demand and continue to be the best site for quality Facebook Covers.
###