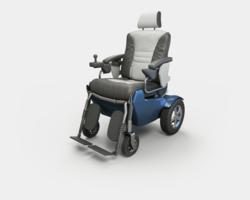 LINAK now provides an entire product programme particularly well suited for wheelchair applications.
Guderup, Denmark (PRWEB) December 23, 2011
The challenges of designing wheelchairs often involve managing the limited space available inside the chair. This challenge can be overcome by integrating small and compact movement solutions that will free up space in the chair.
Within the last 1 ½ years, LINAK has developed a series of products that provide optimal solutions for the design, development and production of wheelchairs. Based on a combination of these new solutions, LINAK now provides an entire product programme particularly well suited for wheelchair applications. This fully updated programme features the well-known LA31, the new actuator LA23, the LA28 Compact with upgraded options as well as the BL1 small column.
The actuators and the column all have a compact design that does not compromise with lifting power or quality. Besides easier construction and greater freedom of design, these solutions provide a reliable and smooth electric movement.
The LA23 is a small and compact actuator with a width of 43 mm and a 50 mm stroke included in the housing. Its dimensions make the actuator easy to fit into a wheelchair without taking up too much space. The LA23 is available with stroke lengths from 20-300 mm. In push or pull, the actuator can lift 2500N. Furthermore, it has exchangeable cables so that it is not necessary to replace the entire actuator if a cable is squeezed and it breaks. The LA23 also has a low noise level and low weight, which supports its usability towards mobile applications. There is no compromise with power or quality.
The LA28 Compact actuator provides enhanced safety for the end user due to its metal back fixture that enables the actuator to withstand a static pull force of 18.000N. This makes it more resistant compared to other back fixtures. E.g., the LA28 Compact is designed to resist the ISO/FDIS 7176-19:2008 crash test; a test that must be passed in order to get approvals for new wheelchairs. With a force of up to 3500N in push, the actuator is a strong and robust solution that will add to the quality and sturdiness of wheelchair applications. The LA28 Compact is available with stroke lengths from 100-600 mm in steps of 50 mm.
The BL1 small column is ideal for adjusting the height of the seating in wheelchairs due to its low built-in dimensions of 275 mm and stroke of 250 mm that enables an appropriate sitting height at the lowest position, also with a big padded seat. This solution is not very resource demanding compared to other more complicated lifting solutions. Additionally, the BL1 small column also has a high stability due to its 3-part guidance and it provides a practically noiseless adjustment.
All together, LINAK products for wheelchairs will add both safety and comfort to your wheelchair and they ensure high lifting power in a small package.
Learn more about LINAK actuators for wheelchairs
For further information, please contact your local LINAK representative
To stay updated on all new LINAK products please sign-up for LINAK news.
LINAK is the world leader in designing and manufacturing linear actuators and electronic controls for a variety of applications such as hospital beds, patient lifts, office desks, leisure beds, harvesters and many other applications in the industry.
LINAK is a global company with subsidiaries all over the world and production facilities in Denmark, the USA, Slovakia and China. LINAK employs approximately 1600 employees and has a turnover of around DKK 2.0 billion.
###