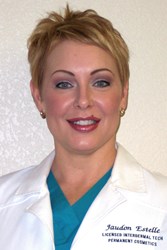 Thank you to everyone who took the time to vote and acknowledge my God given talent and abilities - I really appreciate the incredible support you have shown me -I am truly humbled and honored to have been awarded this title again this year - Thank you!!!
Cleveland, Ohio (PRWEB) December 23, 2011
The 2011-12 Fox 8 HOTLIST awards for Northeast Ohio has finally been announced. After two months of voting and 142,300 votes cast in 121 categories, Jaudon Sunde has been officially declared the 1st Place winner in the Fox 8 HOTLIST in the "BEST Permanent Cosmetic Technician" category. HOTLIST is an interactive online city guide that acts as a excellent reference point for FOX 8 viewers who want immediate access to the BEST products and services in the Northeast Ohio. FOX 8 HOTLIST Awards are given to local businesses voted BEST in their category by the actual local customers.
A Nationally recognized Expert in the field of Permanent Cosmetics, Sunde clearly won over the hearts of Northeast Ohioans again this year with another 1st Place win in this years voting. With well over 25 years of professional experience in the "Beauty Industry", Sunde is known in industry circles as "The Go To Person" when it comes to the Best in Permanent Cosmetics. Jaudon's resume in the Cosmetics Industry includes iconic names such as Escada, Boucheron, Carolina Herra and Tiffany & Co and fashion gurus Christian Dior and Yves Saint Laurent. Jaudon was also the National Seminar Director and Corporate Trainer for Dallas, Texas based cosmetics innovator Christi Harris Company.
With her Award winning work being featured in TV and Print media, Jaudon has numerous commendable accomplishments to her credit. Jaudon serves on the National Advisory Board for the Alliance for Safe Practice and was invited to address the Ohio Board of Health Inspector's on Permanent Cosmetic industry safety. Jaudon was honored to be invited to speak to the American Society of Plastic Surgeon Nurses and the Cleveland Clinic detailing Permanent Cosmetic Procedures. Jaudon has a huge online presence and is the creator and owner of the popular Permanent Cosmetic Website: http://www.mywakeuptomakeup.com
To learn more about the Fox 8 HOTLIST award please visit:
http://fox8.cityvoter.com/best/permanent-cosmetics/beauty/the-cleveland-area/slideshow
###