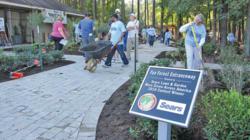 Richmond, VA (PRWEB) December 21, 2011
Timmons Group, an ENR 500 Design Firm and a leader in civil engineering and landscape architecture consulting services, is pleased to announce that Scott Wiley, LA, has written a feature article in the December 2011 issue of Landscape Architect and Specifier News.
The article, titled "Rebuilding Fun Forest," describes the effort to revitalize Fun Forest park, a three-acre children's exploration and imagination playground destroyed by arsonists in the Spring of 2010. The park was originally built in 1995 by more than 1,800 volunteers from private, public and community sectors with donations from the public and local businesses.
Jump-started by a $30,000 contribution from Sears' "More Green Across America" contest, the park has been re-constructed by the community through volunteer labor and funding. Fun Forest was one of ten finalists selected by Sears from the parks and recreation projects nominated by the public in the online voting process. Since its completion, the Fun Forest has returned to its original state, attracting visitors and community residents from across the region, and restoring the thriving culture of the park.
To view the article, please visit http://www.landscapeonline.com/research/article/15913.
About Timmons Group
Timmons Group is a multi-disciplined engineering and technology firm recognized for nearly twenty years as one of Engineering News Record's (ENR) Top 500 Design Firms in the country. As a Certified Small Business (SWaM) in the Commonwealth of Virginia, the firm provides civil engineering, environmental, GIS/geospatial technology, landscape architecture and surveying services to a diverse client base. Headquartered in Richmond, Virginia, Timmons Group has regional offices throughout Virginia and North Carolina. For more information, visit http://www.timmons.com.
###