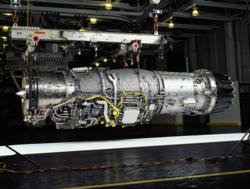 Agawam, Ma (PRWEB) December 23, 2011
EBTEC Corporation has recently completed a cost reduction challenge with Pratt and Whitney Aircraft Engineering to create significant savings for synch-ring segments for the Joint Strike Fighter (JSF) engine program (PW-F135). Through process design conception and the welding expertise at EBTEC Corporation, over sixty-six percent material savings was achieved as well as reduction of the machining costs of this complex assembly. A total savings of over 50% of unit cost to manufacture has been achieved over the legacy part numbers at our facility.
The challenge was to create finished parts, at a significant cost reduction, with all of the same attributes as the original legacy versions. EBTEC designed, with guidance through PWA Engineering, a fabrication process that utilizes one of our high energy beam core competencies, Electron Beam Welding (EBW).
Pratt and Whitney's F-135 is the sole engine program for the F-35 Lightning II Program (also known as the Joint Strike Fighter Program) and is the Department of Defense's focal point for defining affordable next generation strike aircraft weapon systems for the Navy, Air Force, Marines, and our allies. The F-35 will bring cutting-edge technologies to the battle space of the future. Its advanced airframe, autonomic logistics, avionics, propulsion systems, stealth, and firepower will ensure that the F-35 is the most affordable, lethal, supportable, and survivable aircraft ever to be used by war fighters across the globe.
With cost of the JSF being a major topic in congress over these next few months, it is innovations like this that are required from multiple levels of the supply chain in an effort to reduce costs and keep this important program viable. EBTEC is proud to have assisted the PWA Engineering Cost Reduction Team in facilitating cost reductions for the engine program powering the JSF.
As a result of the efforts above, EBTEC has been awarded a multi-year, manufacture complete program for these components.
About EBTEC:
Nearly five decades ago, EBTEC Corporation pioneered the development of non-contact, high energy beam technologies with the Apollo Space Program. Today EBTEC has expanded to address customers' challenges in the Power Generation, Medical, Aerospace, Defense, and the Industrial market segments. Innovative research and customer-focused solutions have been central to our commitment of further developing the science of high energy beam welding, machining, and fabrication, including the use of Electron Beam Welding (EB Welding), Laser Welding, Laser Cutting, Laser Drilling, EDM, Vacuum Heat Treating, and Abrasive Waterjet Cutting.
###