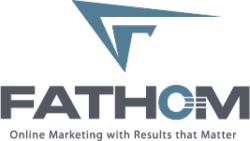 Cleveland, OH (PRWEB) December 21, 2011
Just in time for the holidays, Fathom is releasing "The 12 Ways of Ecommerce," an interactive video highlighting 12 tips for maximizing e-commerce business during the busy shopping season.
Throughout the video, Fathom E-commerce Director Matt Mesenger explains how to cut through the clutter of online holiday shopping and find effective ways to reach buyers. The tips include everything from implementing live chat features successfully to figuring out how to use social media to market products or services to making the most of mobile strategies.
The new video format that Fathom is using to run the feature provides several interactive aspects and resources to enhance the experience. Viewers can click on buttons in the video to find more information on each tip, and "Next Page" buttons allow viewers to watch and control the video as they would a storybook.
"The interactive player uses the most powerful form of online communication – video – and puts the viewer in control of the content through the interactivity," said Abigail Carter, a member of Fathom's video team. "It helps organize content into bite-sized pieces so that it's better understood."
"The 12 Ways of E-commerce" is one of several videos Fathom has recently released in its e-commerce series. Included in this effort is also a whitepaper entitled "E-commerce Holiday Success: 107 Tips for Results That Matter," a resource that details how businesses can best achieve e-commerce holiday success.
About Fathom
Established in 1997, Fathom is a full-service digital marketing company that delivers measurable results that matter: leads that buy and profitable revenue. Fathom's 300+ clients range from middle-market companies to large global enterprises. Industry specialties include B2B, B2C, healthcare, manufacturing, IT/software, education and Ecommerce.
Whether engaged in SEO, paid search, email, or video production, Fathom customers recognize that Internet marketing is the most efficient and profitable way to reach and convert their target audiences, and they bank on Fathom's reputation, expertise and commitment to achieving their business goals.
The company currently has 130+ employees and is headquartered in Valley View, Ohio.
###