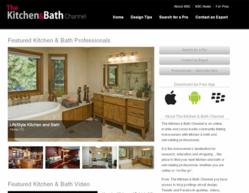 The Kitchen & Bath Channel allows the consumer to research and learn before they dive into a major home renovation
Chapel Hill, NC (PRWEB) December 22, 2011
The Kitchen & Bath Channel announced the launch of its new consumer-focused website joining the widely successful Smartphone App and Social Media sites in the suite of consumer-based research and education tools. With a directory of over 15,000 professionals from coast to coast, the Kitchen & Bath Channel features one of the most comprehensive tools available for consumers searching for Kitchen & Bath design and remodeling professionals. In addition the consumer has access to participating dealers' blog postings, galleries of videos and images, websites, social media locations, specific information about each firm and more.
While the focus of the site is educating and informing the consumer, the kitchen & bath professional can employ http://www.KitchenBathChannel.com as a marketing tool. For the professional, the site provides a profile that is discoverable by search engines, the ability to post blog feeds, Facebook, Twitter and YouTube links, an image gallery, door-to-door directions, company descriptions, contact information, branding opportunities and the ability to spotlight specialties, accolades and accreditations.
"We wanted to create a community with a dual focus; one for consumers and the other for kitchen & bath professionals. The Kitchen & Bath Channel allows the consumer to research and learn before they dive into a major home renovation, while providing the professional an outlet to education and inform, as well as market themselves – both taking advantage of the latest technologies to achieve their goals," said co-founder and company partner Philip D. Zaleon.
About the Kitchen & Bath Channel:
The Kitchen & Bath Channel employs the latest technologies to provide a suite of research and education tools for the consumer, while simultaneously offering the same technologies as marketing platforms to the industry professionals. The Kitchen & Bath Channel currently consists of a website, YouTube Channel, Facebook page, Twitter account, Blogs for both the consumer and professional, and apps for the iPhone, Android and BlackBerry platforms.
# # #