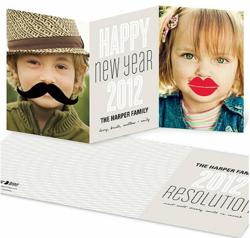 Every option in this New Year's cards collection is worth celebrating!
Mankato, Minnesota (PRWEB) December 21, 2011
Another year of changes, milestones and cherished memories is coming to a close. As families say goodbye to 2011, Pear Tree Greetings is helping them ring in 2012 with a fresh and stylish New Year's collection.
New Year's cards from Pear Tree feature a variety of layouts, color schemes and personalization options, perfect for anyone who wants to capture the joy and optimism of celebrating a new year.
"From modern stripes to vintage prop images, there are a host of unique styles featured throughout our New Year's collection," said Angela Ferrara, director of product development at Pear Tree. "Whether you're looking to share a favorite 'countdown' photo or deliver New Year charm with a sweet ribbon tying one of our New Years photo cards together, every option in this collection is worth celebrating."
With a range of styles that capture the excitement of counting down to 2012, Pear Tree's New Year's collection features playful patterns, fun party hat images and confetti-like dots.
From party-themed layouts to festive personalization options, these Happy New Year greetings also offer space for a favorite photo. Many of the greeting cards feature one or more images, placing the Pear Tree New Year's collection in a "best-of" category all its own.
See the new collection as well as Pear Tree's full line of New Year's cards here.
About Pear Tree Greetings
Pear Tree Greetings celebrates life's sharable moments with its unique collection of personalized, high-quality greetings and stationery made with 100-pound matte-finish card stock. With hundreds of designs for every occasion, available for purchase online for any budget, Pear tree inspires people to stay connected with friends and loved ones.
###