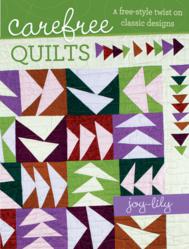 Stop worrying and get quilting!
(PRWEB UK) 23 December 2011
Precision is emphasized in many quilting books. Carefree Quilts, A free-Style Twist on Classic Designs, an F&W Media imprint, encourages all quilters to stop worrying about matching seams and exact measurements. Quilters of every skill-level will have fun learning to create casual, contemporary versions of 12 traditional quilt blocks with this no-worry, no-fuss method of step-by-step construction of each block and quilt.
While making the blocks and learning these free-form methods, readers will also learn basic quilt techniques including strip piecing, curved piecing, foundation piecing, sewing on a bias, making bias tape, flip-and-sew method, piece swapping, assembling and binding.
Readers will be guided step by step through the construction of each block and quilt. Each section is beautifully illustrated to help ensure sewing success!
The book will be on sale January 2012 rrp: 19.99
276x210mm / 128 pages / 30 colour illustrations
For more information, review copies, extracts or interviews please contact:
Annie Adams
F&W Media
01626 323254
###