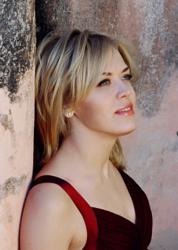 One decade ago, Kern achieved distinction as the first woman in thirty years to win the Gold Medal at the Eleventh Van Cliburn International Piano Competition.
Baltimore, MD (PRWEB) December 23, 2011
Baltimore Symphony Orchestra (BSO) Music Director Marin Alsop will lead the BSO and debuting Russian pianist Olga Kern in Tchaikovksy's Piano Concerto No. 1 on Thursday, January 19 at 8 p.m. and Sunday, January 22 at 3 p.m. at the Joseph Meyerhoff Symphony Hall. Also on the program are two orchestral tours de force: Ravel's propulsive and unforgettable Boléro and Strauss' Also sprach Zarathustra, widely recognized from Stanley Kubrick's 2001: A Space Odyssey. Please see below for complete program details.
Since first published in 1875, Tchaikovsky's first piano concerto has been widely embraced, and is now considered one of the most popular concertos ever written. Upon receiving the original score from Tchaikovsky, conductor and virtuoso pianist Hans von Bülow wrote in a letter to the composer, "The ideas are so original, so powerful; the details are so interesting…. I would weary you if I were to enumerate all the characteristics of your work, characteristics which compel me to congratulate equally the composer and those who are destined to enjoy it." With that, Bülow asked to première the piece on his upcoming American tour. In her BSO debut, Olga Kern will join Marin Alsop and the BSO on the stage of the Meyerhoff to perform this memorable composition, one that Kern recorded with the Rochester Philharmonic Orchestra in 2003. One decade ago, Kern achieved distinction as the first woman in thirty years to win the Gold Medal at the Eleventh Van Cliburn International Piano Competition.
One rhythm, two themes, and one tremendous crescendo – with these basic ingredients Ravel created one of the most popular pieces of concert music of the 20th century. The first thing the audience will hear are delicate taps on the snare drum, establishing a rhythm that will carry on through the entire piece and setting a rock-bottom baseline in volume, from which one long, gradual crescendo will emerge and build until the end of the piece. With Ravel's expert craftsmanship in orchestration, he blends sensual orchestral colors in two alternating Spanish dance tunes, until at last the entire ensemble joins in the exhilarating climax.
Gaining mass popularity after its use in Stanley Kubrick's 1968 movie, 2001: A Space Odyssey, Strauss' famous tone poem Also sprach Zarathustra has come to be associated with mystery and anticipation. Consisting of one, interlinked movement in eight unbroken sections, this composition was inspired by the book of the same title, which contains a series of 80 discourses on a variety of moral and philosophical topics by German philosopher and poet Friedrich Nietzsche. As Strauss explained, "I meant… to convey in music an idea of the evolution of the human race from its origin, through the various phases of development, religious as well as scientific…. The whole symphonic poem is intended as my homage to the genius of Nietzsche."
Marin Alsop, conductor
Hailed as one of the world's leading conductors for her artistic vision and commitment to accessibility in classical music, Marin Alsop made history with her appointment as the 12th music director of the Baltimore Symphony Orchestra. With her inaugural concerts in September 2007, she became the first woman to head a major American orchestra. She also holds the title of conductor emeritus at the Bournemouth Symphony in the United Kingdom, where she served as the principal conductor from 2002-2008, and is music director of the Cabrillo Festival of Contemporary Music in California.
In 2005, Ms. Alsop was named a MacArthur Fellow, the first conductor ever to receive this prestigious award. In 2007, she was honored with a European Women of Achievement Award, in 2008 she was inducted as a fellow into the American Academy of Arts and Sciences and in 2009 Musical America named her "Conductor of the Year." In November 2010, she was inducted into the Classical Music Hall of Fame. In February 2011, Marin Alsop was named the music director of the Orquestra Sinfônica do estado de São Paulo (OSESP), or the São Paulo State Symphony Orchestra, effective for the 2012-13 season. Ms. Alsop was named to Guardian's Top 100 Women list in March 2011. In 2011 Marin Alsop was named an Artist in Residence at the Southbank Centre in London, England.
A regular guest conductor with the New York Philharmonic, The Philadelphia Orchestra, London Symphony Orchestra and Los Angeles Philharmonic, Ms. Alsop appears frequently as a guest conductor with the most distinguished orchestras around the world. In addition to her performance activities, she is also an active recording artist with award-winning cycles of Brahms, Barber and Dvořák.
Marin Alsop attended Yale University and received her master's degree from The Juilliard School. In 1989, her conducting career was launched when she won the Koussevitzky Conducting Prize at Tanglewood where she studied with Leonard Bernstein.
Olga Kern, piano
Now recognized as one of her generation's great pianists, Olga Kern's career began one decade ago with her award winning gold-medal performance at the Eleventh Van Cliburn International Piano Competition in 2001. Her second catapulting triumph came in New York City on May 4, 2004, with a highly acclaimed New York City recital debut at Carnegie's Zankel Hall.
With her vivid stage presence, passionately confident musicianship and extraordinary technique, the striking young Russian pianist continues to captivate fans and critics alike. This season, the Dallas Symphony Orchestra and Van Cliburn Foundation will honor Ms. Kern's Cliburn victory 10 years ago with a co-presentation of her talents in March and April of 2011.
Ms. Kern has performed in many of the world's most important venues, including the Great Hall of the Moscow Conservatory, Symphony Hall in Osaka, Salzburger Festspielhaus, La Scala in Milan, Tonhalle in Zurich, and the Châtelet in Paris; she has appeared as soloist with the Bolshoi Theater, the Moscow Philharmonic, St. Petersburg Symphony, Russian National, China Symphony, Belgrade Philharmonic, La Scala Philharmonic, Torino Symphony, Cape Town Symphony Orchestras and the Kirov Orchestra.
COMPLETE PROGRAM DETAILS
BSO Classical Concert: Tchaikovsky's First Piano Concerto
Thursday, January 19, 2012 at 8 p.m. –Joseph Meyerhoff Symphony Hall (JMSH)
Sunday, January 22, 2012 at 3 p.m. – JMSH
Marin Alsop, conductor
Olga Kern, piano BSO DEBUT
Ravel: Boléro
Tchaikovsky: Piano Concerto No. 1
R. Strauss: Also sprach Zarathustra
Tickets range from $28 to $61 and are available through the BSO Ticket Office, 410.783.8000 or BSOmusic.org.
###