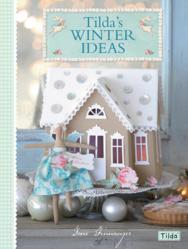 I wanted a Christmas atmosphere without the traditional red Christmas decorations. These colour combinations will create a cozy winter atmosphere in your home. - Tone Finnanger
(PRWEB UK) 23 December 2011
Create handmade gifts, decorations, cards and soft toys in the beautiful winter shades of turquoise, blue, pink, red and cream. The unique designs include gorgeous paper cornets, sewn purses, Christmas cards, tree decorations, cute angels and luxury stockings. Tilda's Winter Ideas is the next installment from Tilda's stunning and world famous series.
Find inside ideas for decorations and gifts - large and small sewing projects that you can make with friends. Other simple projects like homemade ribbons, soaps and chocolate gifts are suitable for a more impromptu workshop.
Inside this beautifully presented book, the added illustrations for wings can be used for the angel projects.
Tilda is a craft brand started by the Norwegian designer Tone Finnanger in 1999.Tilda is most known for the whimsical, comical and naive characters in the form of animals and dolls. Tilda's world is without a doubt a feminine one, and the most recognizable features are the faces, with two dots for eyes and rosy cheeks.
The Tilda range consists of craft books and craft products for sewing and paper craft. The products are produced and distributed by Panduro Hobby and available in most of Europe. The books are also distributed to other parts of the world like USA, Australia and China.
276 x 210 mm / 48 pages / £7.99 / Nov 2011 / David & Charles
For more information, review copies, reader offers or extracts please contact:
Annie Adams
F&W Media
01626 323254
###