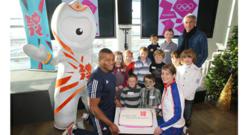 These children have been on a journey with us right from the start and I'm pleased that they will have the opportunity for both an Olympic Games and a Paralympic Games experience next year
(PRWEB) December 22, 2011
Children in the London 2012 Children's Promise scheme today celebrated their 7th birthday with Olympic gold medallist Jonathan Edwards and Wenlock, the London 2012 Olympic mascot, at an event hosted at the Stadium Suite at John Lewis, Westfield Stratford City.
The children were excited to meet Wenlock and Jonathan Edwards, get their faces painted and receive a birthday cake and some gifts from Westfield and the London 2012 Shop. Photos from the day will be available for download here.
Children attending the event at Westfield Stratford City were:

William Chidsey from York
Caitlin Baines from Slough
Matthew Piekos from Chatham
Callum Sharp from Chiswick
Connor Smithers from Billericay
Daniel Wilson from Brighton
Archie Kirton from Chiswick
Ted Johnson from Harrow
Amelia Repton from Guildford
Harry Stanborough from Uxbridge
Seb Coe, Chair of the London 2012 Organising Committee, said: 'I'm delighted the children enjoyed their time with Jonathan Edwards and Wenlock as they celebrate their birthdays today. These children have been on a journey with us right from the start and I'm pleased that they will have the opportunity for both an Olympic Games and a Paralympic Games experience next year. I would like to wish all of our Children's Promise participants a very happy seventh birthday, a Merry Christmas and a Happy New Year!'
The Children's Promise scheme, launched during the bid to host the 2012 Games in 2004, called for children across the UK who were born on the 20th day of the 12th month (20/12 day), to register with LOCOG to have the opportunity to take part in an event or ceremony surrounding the London Olympic and Paralympic Games. Over 700 children from across the UK are registered with the London 2012 Children's Promise scheme. All the children registered have been sent a special birthday card from LOCOG Chair Seb Coe.
The children taking part in the Children's Promise have been offered both an Olympic Games and a Paralympic Games experience.
Between 19 May and 26 July 2012, the children will have the opportunity to be present on stage at the evening ceremony to welcome the Olympic Flame to the town or city nearest to their home. Involvement in these ceremonies will enable family and friends to be part of the Children's Promise moment.
All Children's Promise children, and one accompanying parent/guardian, have also been offered a ticket to the Opening Ceremony of the London 2012 Paralympic Games on 29 August 2012, and a significant and memorable role in the pre-show for the Ceremony.
For further information please contact the London 2012 Press Office on +44 (0)203 2012 100
###