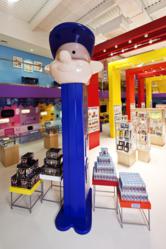 Orange, CT (PRWEB) December 23, 2011
PEZ Candy, Inc. announces that its highly anticipated Visitors Center is now open to the public. Located at 35 Prindle Hill Road, Orange, CT, the Visitors Center is home to all things PEZ. Discover the largest, most comprehensive collection of PEZ memorabilia on public display in the world. The center includes a viewing area into the PEZ production floor, an interactive review of PEZ history, a touch-screen PEZ Trivia game, a factory store and much more. The PEZ motorcycle built by Orange County Choppers and the world's largest PEZ dispenser welcome you to the world of PEZ. Learn about the brand that has been inspiring the imagination since 1927!
"With nearly 6,000 square feet, there is plenty to see and do for the entire family", stated Joe Vittoria – CEO of PEZ Candy, Inc. "PEZ has been an integral part of American culture for decades and enjoyed by generations. We are very pleased to open the world of PEZ to everyone."
The PEZ Visitor Center is open Monday through Saturday from 10:00am - 6:00pm and on Sunday from 12:00 - 5:00pm. Our Holiday schedule is:
Dec. 24th 10:00am - 3:00pm
Dec. 26th-Dec.30th from 10:00am - 6:00 pm
New Years Eve 10:00 am - 3:00pm
Closed New Years Day
About PEZ Candy, Inc.
PEZ Candy, Inc. is the pioneer of "interactive candy" that is both enjoyable to eat and fun to play with. PEZ Dispensers are a hot collectable for adults and children alike and have been a staple of American pop culture for over 50 years. To learn more, visit http://www.pez.com.
###