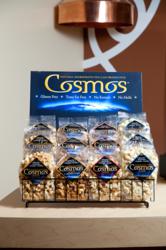 We see this as a great licensing opportunity.
Eugene, OR (PRWEB) December 22, 2011
Cosmos Caramel Corn, the deliciously addictive, oven-baked, all-natural, hand packaged snack, continues its turnaround with the opening of its maiden retail outlet at Valley River Center, the premier shopping center of Eugene, Oregon.
All 15 Cosmos Caramel Corn varieties are offered inside the store, along with free tastings. All varieties are gluten free, trans-fat free, and preservative free, with no hulls, or kernels, which are unique Cosmos features.
The new Cosmos venture occupies 650 square feet inside a completely renovated location next to the shopping center's Food Court. It raises the company's profile and serves as a test lab for future expansion.
"We see this as a great licensing opportunity," said John Strasheim, the company's CEO. "People can license from us and put stores in other areas, similar to a franchise. We're looking at the data we mine from the Valley River Center store to help us evaluate other opportunities and locations.
"I think it's an ideal location being on the outer edge of the food court," said Karla Goss, the store manager. "We've had a very positive response from customers and other mall employees. It helps when they catch the aroma of caramel in the air."
The store's designers made sure that passersby would be drawn in by the aroma of fresh baked caramel corn. A station behind the customer reception area is setup with ceramic pots of caramel corn gently warming over a small, countertop stove. A copper vent and piping system carries the fresh caramel aroma up along the ceiling to the front door and out to the main walkway.
The store offers pre-made gift baskets and themed gift boxes, with various Cosmos products, as well as dairy-free, dark chocolate from Chocolate Decadence, a fellow Eugene-based company. Custom-made baskets and boxes can be ordered for individuals, corporate gifting, or special occasions.
The full slate of Chocolate Decadence offerings include six flavors, as well as packaged, shaped, foil-wrapped chocolates that change with the seasons. Non-dairy-free chocolate is also an option. Chocolate Decadence is sold separately, in addition to the gift baskets and boxes.
The retail store offers sales that can't be found online, such as 2-for-1 deals and discounts when you purchase flavor combinations. Specials will run weekly and bi-weekly, all year long.
To help build the business, Cosmos holds in-store and online drawings for gift certificates, gift baskets and various Cosmos products as well as on a Facebook page (http://www.facebook.com/CosmosCorn) that also lets fans post comments to give feedback and for opportunities to win the drawings. Frequent customers can redeem punch cards for free products.
The Cosmos retail store employs 10 part-time staff. Hours match those of Valley River Center, typically Sunday, 11am to 7pm, and Monday-Saturday, 10am to 9pm. Holiday hours vary.
Cosmos Caramel Corn recently launched a new website (http://www.cosmoscorn.com), where visitors can learn about the history of the company, browse among the 15 mouth-watering products, and place orders online. The website offers a unique feature where customers can send a personalized note with any item, gift basket or gift box that is ordered online; perfect for holidays, birthdays or any special occasion.
About Cosmos Caramel Corn:
4 Him Food Group, the parent company of Cosmos Caramel Corn, is currently headquartered at 784 S. Bertelsen Road in Eugene, Oregon but will be moving their HQ and manufacturing to Junction City, Oregon after the first of the year. Cosmos was founded in 2004. Current owners, as of July 2011, are the Strasheim and Tiller families. 4 Him employs 26 people, with expansion plans that will double their work force in 2012.
http://www.cosmoscaramelcorn.com
http://www.facebook.com/CosmosCorn
http://www.twitter.com/CosmosCrmlcorn
###