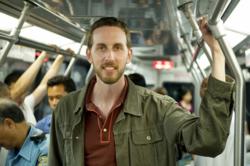 There are a lot of people who are realizing that just driving in this town is not always so fun.
San Francisco, California (PRWEB) December 22, 2011
Transportation has been one of the hot button issues in the Bay Area for years. New San Francisco Supervisor Scott Wiener, who is also Mayor Ed Lee's appointee to the Metropolitan Transportation Commission, has been at the fore of this discussion.
In the last year, he's lead the charge to pass 2011's Proposition B and has become one of the most outspoken advocates of bringing high-speed rail to San Francisco. In his interview with GJEL's Street Safety blog, Supervisor Wiener expounds on his transportation philosophy, and how his unconventional attitudes about cars, taxis, and public transportation systems will influence San Francisco's transportation philosophy in 2012.
One of Supervisor Wiener's major accomplishments of 2011 was passing Proposition B. The $248mil in General Obligation Bonds will be used to repair city streets and bridges, as well as provide funding for capital improvements to public space and for widening sidewalks. Prop B required a two-thirds popular vote and was hotly contested before Wiener and his colleagues secured victory.
In his interview, Wiener elaborates on how he made the case for this costly transportation initiative, and why high-speed rail, an issue that prompts responses as various as they are passionate, presents even a great challenge.
As a longtime San Francisco resident, he understands the issues inherent in creating a comprehensive transportation system in the city, "I don't subscribe to the belief that we are going to create a non-car paradise."
However he also explains how some simple additions like improving he taxi system to provide those who regularly use public transportation with a reliable means of reaching out of the way destinations at a moments notice. "Even if we had 100 million dollars each year to improve Muni to address its structural deficits, to expand service and to really upgrade the system, Muni is never going to be able to get you anywhere you want to go at any time," says Wiener. "People need to know that if they need to get somewhere quickly, they can jump in a cab and get there."
Though such minor improvements can yield substantial gains, Supervisor Wiener also has his eyes set on bringing high-speed rail to the Bay Area and downtown San Francisco. So far, the project is "in flux," says Wiener. "The press has sort of gone on a feeding frenzy against high-speed rail, and that's unfortunate. Yes it's expensive; yes it's going to take a long time. But that's true of any transformative infrastructure project."
As one of the most important voices on the transportation issues that effect Bay Area residents everyday, Supervisor Wiener's perspectives are required reading for residents of any metropolitan city.
###