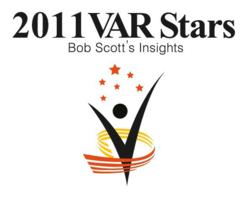 Toronto, Ontario (PRWEB) December 23, 2011
Progressive Media Group's Bob Scott's Insights (http://www.BobScottsInsights.com) has selected BAASS Business Solutions Inc. (BAASS) as a winner of its 2011 VAR Stars award. One hundred resellers are selected each year for this honor.
2011 VAR Stars have a practice involving the sale of mid-market financial software and while most derive significant revenue from other sources, accounting software is the core to their business.
Revenue is not a factor in selection and VARs are not rated. The No. 1 and No. 100 members of this list have equal standing. Factors taken into consideration included growth, industry leadership and innovation. There are very large and very small dealers in this list. An effort was also made to selects resellers who represent a broad range of products.
This year, VAR Star candidates were asked what they have done to respond to the economic conditions. Several common areas emerged from those VARs who commented (not all provided this information.) Few of these were surprising, but all are important.
They are as follows:
Diversifying product lines.
Holding onto talent.
Maintaining or increasing marketing budgets.
Performing mergers and acquisition.
Bob Scott's Insights provides the mid-market reselling community with news and analysis giving them insight into the issues that affect the business of resellers and vendors alike. It informs and entertains, giving this critical market a quick-and-easy read that is both instructive and interesting.
Bob Scott has been informing and entertaining the mid-market financial software community with his email newsletters for 12 years. And he has been covering this market through print publications for 20 years, first as technology editor of Accounting Today and then as the Editor of Accounting Technology from 1997 through June 2009. He has covered the traditional tax and accounting profession during the same time and continues to address that profession as executive editor of The Progressive Accountant.
About BAASS Business Solutions Inc.
BAASS Business Solutions Inc. (BAASS) is a provider and implementer of accounting and business management applications for corporate and community-based organizations in Southern Ontario and across North America.
The BAASS focus is on increasing customer efficiencies and effectiveness through the implementation of the right technology supported by customization and training, designed to enhance growth capacity and business profitability.
About Progressive Media Group, Inc.
Progressive Media Group (PMG) is a leading online media company that provides business-to-business (B2B) marketers and media planners unparalleled access to a highly qualified and engaged audience through their portfolio of lead generation programs, industry-specific websites, email newsletters, Web seminars, live events, podcasts, content/reviews, custom publishing and direct marketing databases focusing on the nonprofit, healthcare and accounting professionals.
###