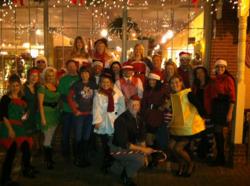 The funds will be used to purchase a computer … With the new computer, Little Debbie's will be able to provide an on-site GED program for the girls who find it difficult to attend regular high school classes. -- Ms. LaKisha Stiggers, Executive Director
(PRWEB) December 21, 2011
The Merry Marauders, a self described "fun-anthropic" group of charitable characters organized independently by Jackson & Coker associates, recently gathered in Atlanta, GA for a unique charity event. Attendees were required to not only don their best and most creative holiday costumes, but also to provide a monetary donation to benefit local Atlanta area foster homes. As The March of the Merry Marauders progressed through the streets, the costumes worn by the attendees served their intended purpose of drawing positive attention to the event and cause, raising additional funds from entertained passers-by.
The donations collected were matched by an anonymous sponsor, which brought the total to over $1,300. These funds, in their entirety, will go directly to Little Debbie's Second Chance Home, Inc. (LDSCH), an Atlanta based non-profit organization that provides a structured and nurturing home for displaced adolescent females, teen parents and their young children. Ms. LaKisha Stiggers, Founder and Executive Director of Little Debbie's, said that the funds will be used to purchase a computer and software for the girls to access an in-house GED program. A delighted Ms. Stiggers explained that, with the new computer, Little Debbie's will be able to provide an on-site GED program for the girls who find it difficult to attend regular high school classes.
Jackson & Coker associates have long been involved with many charitable works during the holiday season and this event is yet another avenue to provide much needed assistance to those less fortunate, during what can be a very difficult time of year for these children. Although the group's efforts this time of year are far reaching in their donations of time, effort and resources, The Merry Marauders will look to extend their spirit of giving throughout the New Year with a variety of upcoming and ongoing events and sponsorships.
To provide assistance to The Little Debbie's Second Chance Home, please visit, http://www.littledebbiehomes.org. To join the Merry Marauders in their charitable endeavors, please search Facebook "Merry Marauders" or contact Thomas McKeever, tmckeever(at)jacksoncoker(dot)com for more information.
About Jackson & Coker
Jackson & Coker (http://www.jacksoncoker.com) believes that all hospitals, clinics, physician practices, and patients should have access to a physician -- whether for a day, a lifetime or any of life's changes in between. The firm specializes in doctor opportunities for physicians at any stage of their professional career. For over three decades, Jackson & Coker has been uniting physicians and hospitals to ensure that all patients' needs are met by providing physicians for as little as a day and as long as a lifetime.
Headquartered in metro Atlanta, the physician recruitment firm has earned a reputation for placing exceptionally qualified candidates in commercial and government practice opportunities. Recruiters work in two divisions of the company: Permanent Placement, which places providers in over 40 medical specialties in permanent placement jobs, and locum tenens, a staffing model that recruits medical providers (physicians and CRNAs) for temporary vacancies. Jackson & Coker is ranked by Staffing Industry Analysts in its size category as the #5 "Best Staffing Firms to Work For."
###