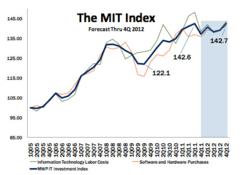 The MIT rose to 142.6, up just over 2% over the previous quarter driven by sequential quarterly increase across the board with particular strength in hardware sales and workforce spending
Chicago, IL (PRWEB) December 22, 2011
Maven Wave Partners refreshes the IT Spending & Investment Study, through 3Q 2011, the results generated some surprise as continued sequential quarterly growth in IT hardware, software and workforce and hardware spending outpaced projections.
In early 2011, Maven Wave Partners' IT Spending & Investment Study revealed that the IT spending squeeze brought on by the financial crisis of 2008 ended in 4Q 2010. The study also predicted sustained growth in spending on IT hardware, software, and workforce spending. Based on the study, Maven Wave established two indices designed to assist clients, market participants, and analysts in tracking the pace and value of IT investment by enterprise:

The Maven Wave Partners IT Investment Index (the "MIT Index"), a bellwether measure of aggregate spending on information technology
The Maven Wave Partners IT Value Index (the "MIV Index"), tracking corporate earnings in relationship to spending on the Information Technology workforce
As we reported in 2Q, the MIT Index increased outpacing expectations by 6%. The increase was driven largely by stronger than expected hardware sales. For 3Q 2011, our model again predicted that 3Q spending would be somewhat weaker (down 5%) as companies continued to digest the substantial increase in IT investment made earlier in 2011. Here are the third quarter results:
The MIT rose to 142.6, up just over 2% over the previous quarter driven by sequential quarterly increase across the board with particular strength in hardware sales and workforce spending
The MIV rose just over 8% sequentially to $21.03 (meaning a dollar in IT workforce spending is worth $21.03 in corporate profit)
"For two quarters in a row, our model has suggested a pause in the growth of IT spending, and twice the market has surprised us with sequential increases," said Brian Farrar, partner at Maven Wave Partners, "with the continued overhang in the European sovereign debt market, a gridlocked US Congress, and a potentially vigorous 2012 election cycle in the US, we remain vigilant for a break in the action, but the numbers to date bode well for 2012."
Maven Wave plans to extend its forecast of the indices through 2015 in connection with our 1Q 2012 update.
For more information on the Maven Wave Partners IT Spending & Investment Study please visit LINK or contact Matt Batt at matt(dot)batt(at)mavenwave(dot)com
About Maven Wave Partners
Maven Wave Partners provides management consulting, technology delivery and outsourcing services to companies that seek exceptional business advancement through transformation. Companies seeking to accelerate performance improvement rely on Maven Wave Partners for strategy-led, results-focused management, technology, and cloud solutions.
The management team of Maven Wave Partners has successfully delivered for a wide variety of clients and industries.
For more information, visit http://www.mavenwave.com.
###