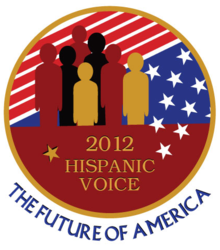 Hispanics Must Define Their Responsibility and Future as America Reinvents Itself
(PRWEB) December 21, 2011
2012 Hispanic Voice believes that Latinos all across America seek leadership that understands their voice, appreciates their identity and can help them enable themselves and their future. As the skill set requirements to be successful change in America – Hispanics are in a unique position to flourish. America's expanded melting pot of diverse faces and perspectives requires leadership that brings a new outlook that can integrate these new voices that represent America's future.
The 2012 Hispanic Voice Town Hall Tour will kick-off in January of 2012 in Santa Ana, California to discuss these issues and many others that will shape the agenda for Hispanics in America. "Hispanics, like other multicultural groups, think differently about their lifestyles, their careers and their families, says 2012 Hispanic Voice founder, Glenn Llopis. America must be reintroduced to its original values that helped create the foundation for prosperity in this country. Hispanics, Asians and all immigrant groups must help reintroduce America to its original value system that quickly became extinct when greed, distrust and selfishness got in the way of our land of opportunity."
The 2012 Hispanic Voice is a nonpartisan initiative formed to help Hispanics in America understand the responsibility of their voice and identity in order to cultivate sustainable economic prosperity in America. The first tour stop will be held on January 11, 2012 at Hoiles Auditorium located at The Orange County Register at 625 N. Grand Ave., Santa Ana CA 92701. Registration is free, but attendance is limited. Registration for all Town Hall Tour events are to be completed online only at http://www.2012HispanicVoice.com. For more information on how you can host a Town Hall Tour event in your city and / or if you are interesting in being a volunteer, please contact us at: ideas(at)2012HispanicVoice(dot)com.
###