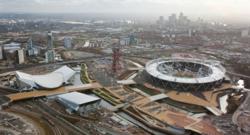 A huge amount has been achieved over the past 12 months with iconic new venues completed and test events bringing world-class sport to the Olympic Park for the first time
(PRWEB) December 23, 2011
The London Organising Committee of the Olympic and Paralympic Games (LOCOG) released new aerial images and footage showing the transformation of the Olympic Park as 2012 approaches. The key dates and milestones ahead in Olympic and Paralympic year have also been also outlined.

Key dates and milestones in run-up to the Games outlined
New Olympic Park aerial images can be downloaded here
The latest aerial shots show the Olympic Park 'big build' now over 90 per cent complete with the Olympic Delivery Authority on track to hand the site over to LOCOG early next year. The handover of the Olympic Park is one of a number of key dates and milestones that will take place in the final months ahead of the Games including:
January
6th January - Olympic and Paralympic ticket resale programme opens (to Feb 3rd)
9th January – 200 days to go the Olympic Games Opening Ceremony
10-18th January – Visa International Gymnastics, test event, North Greenwich Arena
27th January – 6 months to go to the Olympic Games
February
February - Games Maker volunteers training begins
11th February – 200 days to go until Paralympic Games Opening Ceremony
16-19th February – UCI Track Cycling World Cup presented by Samsung, test event, Velodrome
20-26th February – 18th FINA Visa Diving World Cup, test event, Aquatics Centre
29th February - 6 Months to Go to Paralympic Games
March
3-4th March - London 2012 Festival 'Music Nation' weekend across UK
3-10th March - British Swimming Championships, test event, Aquatics Centre
28-30th March – IOC's final Coordination Commission visit to London
31st March - National Lottery Olympic Park Run event
April
1st April - Gold Challenge event in Olympic Stadium
18th April – 100 days to go to the start of the Olympic Games
18-19th April – International Invitational Wheelchair Rugby test event, Basketball Arena
18-22nd April - FINA Olympic Games Synchronised Swimming Qualification, presented by Visa, test event, Aquatics Centre
23rd April - Men's Olympic Football Tournament Qualification Play-Off Match, test event, City of Coventry Stadium
23rd April - London 2012 Festival World Shakespeare Festival opens
May
2-6th May – International Invitational Hockey Tournament, test event, Olympic Park
4-7th May – British Universities & Colleges Sport Outdoor Athletics Championships, test event, Olympic Stadium
8th May - London Disability Grand Prix, Olympic Stadium, Paralympic Athletics test event
9th May – School Games events in Olympic Park venues
19th May – Olympic Torch Relay starts at Land's End
21st May – 100 days to go to the start of the Paralympic Games
25th May - Olympic Torch Relay reaches Wales
June
3rd June - Olympic Torch Relay reaches Northern Ireland
6th June - Olympic Torch Relay reaches Dublin
8th June - Olympic Torch Relay reaches Scotland
21st June – Start of London 2012 Festival
23-24th June - London 2012 Festival Radio 1 Big Weekend event, Hackney Marshes
25th June - London 2012 World Sport Day celebrations in UK schools
July
20th July - Olympic Flame arrives in London (evening)
21-22nd July - London 2012 Festival River of Music concerts along River Thames
23rd July - Olympic Flame visits Albert Square in EastEnders episode
25th July - First Olympic Games sports events – Women's Football Preliminary matches at Cardiff (including Team GB), Coventry and Glasgow
27th July – Olympic Games Opening Ceremony
August
12th August - Olympic Games Closing Ceremony
24th August – Paralympic Flame lighting in London
25th August - Paralympic Flame lighting and flame festival in Belfast
26th August - Paralympic Flame lighting and flame festival in Edinburgh
27th August - Paralympic Flame lighting and flame festival in Cardiff
28th August - Paralympic Flame festival in Stoke Mandeville, start of the 24 hour Paralympic Torch Relay to London
29th August - Paralympic Games Opening Ceremony
9th September - Paralympic Games Closing Ceremony
Seb Coe, Chair of the London 2012 Organising Committee said: "A huge amount has been achieved over the past 12 months with iconic new venues completed and test events bringing world-class sport to the Olympic Park for the first time. We still have much to do but there is growing excitement as we count down to the Games next summer."
ODA Chairman John Armitt said: "The building of the venues and infrastructure for the London 2012 Games is well over 90 per cent complete. It is thanks to the expertise of the construction industry that this has been achieved – transforming a run-down area into the setting for the world's greatest sporting event and creating new communities that will live and thrive long after the athletes have gone home. The year drawing to a close was the ODA's busiest, with the workforce peaking and the bulk of the project delivered - on time and within budget. In 2012 we will complete our task, finishing the Olympic Village, Water Polo Arena, shooting venue at Woolwich and parklands, as we work alongside the Organising Committee to prepare for next summer."
The latest aerial images and footage released today show the huge progress and activity on the Olympic Park site over the last 12 months including:
Olympic Stadium
Construction of the Olympic Stadium completed in March 2011 and the running track unveiled in October with GB athletes & local school children the first to take to the track.
Aquatics Centre
The completed Aquatics Centre unveiled during the '1 year to go' celebrations in July 2011 with Tom Daley making the first dive into the pool.
Velodrome & BMX Track
The Velodrome becoming the first Olympic Park venue completed in Feb 2011 followed by the BMX Track which held the UCI BMX Supercross World Cup test event in August.
Basketball Arena
The temporary 12,000 seat Basketball Arena completed in June 2011 and becoming the first Olympic Park venue to host competitive sport with the London International Basketball Invitational test event taking place in August.
Olympic Village
The 2,012th new home completed in October with the ODA also securing the legacy owners for the purchase and long-term management of the Olympic Village. The Village is on track to be completed and handed over to LOCOG early next year.
Handball Arena
The Handball Arena was completed in May 2011 and has already held two test events with the London Handball Cup in November and the London International Goalball Tournament in December, the first Paralympic test event in the Olympic Park.
Hockey Centre
The first of the Olympic Hockey Centre's striking blue and pink pitches was unveiled in October 2011 along with news that a yellow ball will be used during the Hockey competition for the first ever time at an Olympic Games.
IBC/MPC
Construction of the International Broadcast Centre and Main Press Centre completed in July 2011. Work is underway to kit-out the IBC/MPC for more than 20,000 media in 2012 who will communicate the Games to a worldwide audience of 4 billion people.
Parklands
The two-year planting programme completed in November 2011 to create the UK's largest new urban park for more than a century with 4,000 semi-mature trees, over 300,000 wetland plants and more than ten football fields worth of meadows planted.
For further information please contact the London 2012 Press Office on +44 (0)203 2012 100
###